Top Six Tips To Bring Disney Magic To Your Holiday Dinner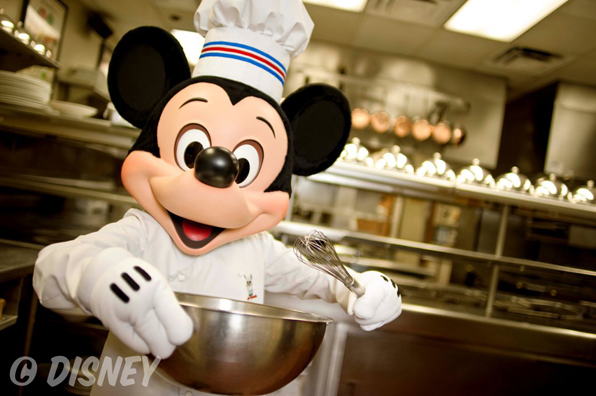 Whether you're experiencing the holidays at Walt Disney World Resort, or waiting until after the snow on Main Street U.S.A has passed, Walt Disney World Chef Charles Dolson, area chef of The Land Pavilion at Epcot, shows you how to show your Disney Side at home for your festive food and beverages.

Chef Dolson and team often use fresh produce grown in Epcot's on-site greenhouses to make thousands of meals each week, but fun touches at home can add magic to your meal, with ingredients you likely already have in your kitchen. "Simply adding one extra ingredient can change a dish completely," says Chef Dolson.

Here are six easy-to-do tips from the savory main course to the bubbly sips:
Turkey Tip – Create a rub with compound butter – softened butter, blended with fresh herbs and spices such as salt, pepper, garlic, sage, dill, and rosemary. Rub the butter under and over the skin of the turkey, so that the bird bastes itself as the butter melts. You can also use a compound butter over other poultry, or a beef or pork roast.
Cranberry Tip –Liven up canned cranberry sauce by adding port wine, orange zest, grated ginger and fresh or frozen whole cranberries. Stir and simmer until most of the berries have softened or burst. Then, pour in a mold and chill.
Salad Tip – Forget the croutons. Add fresh fruit (strawberries, blueberries) and nuts (walnuts, pecans) to a tossed salad for crunch, texture, sweetness, and tartness. Pour the dressing around the edges of a salad before you toss it, instead of over the top. The dressing will be better distributed and the lettuce less likely to bruise.
Champagne Tip – Keep a glass of bubbly chilled and fizzy with a wooden skewer of frozen cranberries, blueberries, or strawberry chunks.
Candy Cane Brownies Tip – Customize store-bought brownie mix by adding crushed candy canes to the batter and also sprinkling them over the top.
Kitchen Help Tip – If family and friends come to the kitchen and ask to help, let them! Putting ice cubes in glasses or setting pre-prepped items on the dinner table are little things, but they're also now things that someone else is handling.
BONUS TIP from Chef Dolson – Don't stress over making a perfect holiday dinner. Instead, make sure to enjoy your family and friends. "The meal is wonderful and the food is important, but it's really the company that makes the celebration," says Dolson.

For more information about

everything Disney, call Academy Travel at 609-978-0740.
Academy Travel is an Authorized Disney Vacation Planner
Specializing in Walt Disney World, Disneyland Resort, Disney Cruise Line and Adventures by Disney Vacations
Back to Articles