Disneyland Resort Adds Dazzling, New Nighttime Spectaculars for Its Diamond Celebration, Beginning May 22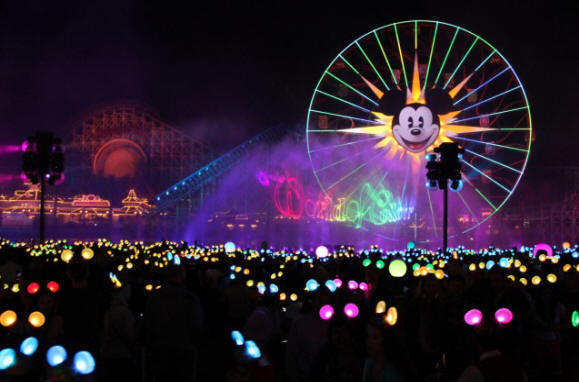 Nighttime Celebration Like None Before Will Light up the Resort with a Glittering Parade, Street-to-Sky Fireworks Show and a Fun-filled 'World of Color' Featuring Mickey Mouse, Fountains, Music and Visual Surprises
ANAHEIM, Calif. – Three sensational new nighttime spectaculars will dazzle guests at the Disneyland Resort when the Diamond Celebration begins Friday, May 22, 2015. Nighttime will glitter as never before when the latest technology and immersive special effects lift the "Paint the Night" parade and "Disneyland Forever" fireworks spectacular beyond anything seen in the past at Disneyland Park. In Disney California Adventure Park, a new "World of Color" show featuring Mickey Mouse will tell the story of Walt Disney and the Happiest Place on Earth through fountains, film, animation, a stirring musical score and amazing visual surprises.

The electrifying new shows will take guests into the worlds of Disney stories like never before, celebrating 60 years of magic with a nighttime parade that shines with more than 1.5 million individually controlled lights – the first all-LED parade at the resort; a reinvention of the classic fireworks that adds projections to transform the park experience; and a moving, new version of "World of Color" that celebrates Walt Disney's dream for Disneyland.

In addition, the iconic Sleeping Beauty Castle in Disneyland and Carthay Circle Theatre in Disney California Adventure will glisten and gleam for the celebration, each with its own diamond medallion. The Disneyland Resort and surrounding streets will sparkle with Diamond Celebration décor and festive banners in shades of Disneyland blue. Also bearing the diamond anniversary theme, creative merchandise and food items will be designed to complement the celebration.

"Sixty years ago, Walt Disney welcomed the first guests to Disneyland. Nearly 3 billion guest visits later, it's amazing to contemplate all that Disney Parks and Resorts represents to so many people around the world," said Tom Staggs, Chairman, Walt Disney Parks and Resorts. "We've conceived the Disneyland Diamond Anniversary as a celebration of this special place that started it all. Disneyland was envisioned as a place that encourages all of us to be 'forever young,' in part by being forever young itself … so we're celebrating not just the last 60 years, but all that is yet to come."

Innovation Inspires Exciting Future

When Walt Disney opened Disneyland on July 17, 1955, he inaugurated a tradition of innovative, immersive storytelling that inspired classic theme park attractions such as Pirates of the Caribbean, Space Mountain, Star Tours, Soarin' Over California, Toy Story Midway Mania and Radiator Springs Racers. The Diamond Celebration will continue this tradition with three fantastic new shows that expand the boundaries of after-dark entertainment – Disney's signature "kiss goodnight."
"Paint the Night" parade – New technology and unleashed imagination permeate this after-dark parade, flooding Main Street, U.S.A., in Disneyland with vibrant color and more than 1.5 million, brilliant LED lights that flash and glow as they bring Disney stories to life. The luminescent parade introduces a new era of magical entertainment, as Mickey Mouse uses his imagination to harness the power of Tinker Bell's pixie dust and "Paint the Night" in dazzling Disney dreams. Those dreams include special appearances by Mickey's pals and beloved characters from tales such as "Monsters, Inc.," "Cars," "The Little Mermaid," "Beauty and the Beast," "Toy Story" and "Frozen." The parade features special effects, unforgettable music, energetic performances, fun surprises and spectacular floats, with Mickey leading the grand finale.
"Disneyland Forever" fireworks spectacular – The Disneyland Resort tradition of creating big, dazzling fireworks shows will soar to new levels as "Disneyland Forever" immerses guests in stories from the tips of their toes to the sky high above. Thanks to the largest installation of projection mapping technology in a Disney park and surprising special effects, guests will find themselves transported into the worlds of beloved Disney and Disney●Pixar films, including a dance with King Louie from the "The Jungle Book" and a flight over London with characters from "Peter Pan." Showing just how magical the Magic Kingdom can be, the fireworks "stage" will extend to Main Street, U.S.A., "it's a small world," Rivers of America and the Matterhorn as projections transform familiar park icons into stunning story scenes. Two original songs also will be featured, the theme "Live the Magic," and the inspiring closing song "Kiss Goodnight," written by Disney Legend Richard Sherman. "Disneyland Forever" will be visible from Main Street, U.S.A., and several Disneyland locations.
"World of Color – Celebrate! The Wonderful World of Walt Disney" – Mickey Mouse will entertain guests as mischievous host of this fun-filled new presentation of the popular, nighttime "World of Color" spectacular in Disney California Adventure. Illuminating the night in a contemporary and moving celebration of Walt Disney and his dream of Disneyland, Mickey Mouse will take guests on an inspirational journey through the unparalleled imagination of Walt Disney, exploring his decades-long legacy of memorable animated moments and the dream of Disneyland Park. Both epic and intimate in scope, "World of Color – Celebrate!" brings to life the remarkable story of Walt and The Happiest Place on Earth with animated imagery, live-action film, fountains, lasers, special effects and a stirring musical score, all on the magical water canvas of "World of Color."
A Source of Joy and Inspiration to the World

The popularity of Disneyland through nearly 60 years celebrates Walt Disney's dream of a place where family members of all ages can have fun together in an atmosphere that emphasizes imagination, fantastic storytelling and extraordinary guest service. Since 1955, dignitaries, heads of state, celebrities and more than 700 million guests have passed through the gates of a place that Walt imagined as "a source of joy and inspiration to the world."

Disneyland transformed the amusement industry with an entirely new concept in family entertainment: a "theme park" where rides, shows, characters, merchandise and cast members in costume become part of a total storytelling environment. In the nearly six decades since it opened, the Disneyland Resort has continued to use creativity, technology and innovation to bring stories to life, while fulfilling Walt's promise that "Disneyland will never be completed … as long as there is imagination left in the world."

The success of Disneyland Resort also has resulted in immense growth for the city of Anaheim, Calif. The resort's workforce of 27,000 cast members makes it the largest single-site employer in Orange County. From the original Disneyland Park, the entertainment concept has expanded worldwide and is enjoyed by guests at Walt Disney World Resort in Lake Buena Vista, Fla, Tokyo Disney Resort in Japan, Disneyland Paris in France, Hong Kong Disneyland, Disney Cruise Line, Disney Vacation Club, Adventures by Disney and Aulani, a Disney Resort & Spa in Hawaii. Shanghai Disney Resort is now under construction in China.
For information about the Disneyland Resort Diamond Celebration, contact your Academy Travel Representative directly, or call 609-978-0740 for more information.
Academy Travel is an Authorized Disney Vacation Planner
Specializing in Walt Disney World, Disneyland Resort, Disney Cruise Line and Adventures by Disney Vacations
Back to Articles