22 'Eat to the Beat' Concert Acts Perform Sept. 25-Nov. 16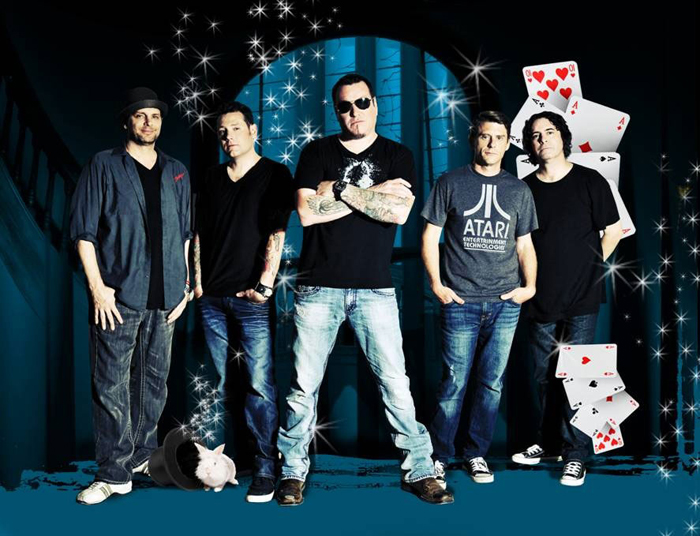 Smash Mouth will be one of the acts performing at the 'Eat to the Beat' concert series at the
20th Epcot International Food & Wine Festival
LAKE BUENA VISTA, Fla. – Four new Eat to the Beat musical acts join 18 fan-favorite bands for a rockin' lineup of pop hit makers tuned up to celebrate the 20th Epcot International Food & Wine Festival Sept. 25-Nov. 16 at Walt Disney World Resort.

New-to-the-festival acts – Tiffany, Everclear, Maxi Priest and Chaka Khan — and 18 returning acts including Jo Dee Messina, Rick Springfield and The Pointer Sisters will rock the America Gardens Theatre stage during concerts at 5:30, 6:45 and 8 p.m. daily. The lineup (subject to change and included in Epcot admission) includes:
Sept. 25-27 David Cook "The Time of My Life"
Sept. 28-29 Wilson Phillips "Hold On"
Sept. 30-Oct. 1 Christopher Cross "Sailing"
Oct. 2-4 STARSHIP starring Mickey Thomas "We Built This City"
Oct. 5-7 Smash Mouth "Walkin' On the Sun"
Oct. 8-9 The Pointer Sisters "I'm So Excited"
Oct. 10-11 38 Special "Caught Up in You"
Oct. 12-13 Rick Springfield "Jessie's Girl"
Oct. 14-16 Sugar Ray "Fly"
Oct. 17-18 S.O.S. Band "Take Your Time (Do It Right)"
Oct. 19-21 Air Supply "All Out of Love"
Oct. 22-23 Fuel "Shimmer"
Oct. 24-25 NEW! Tiffany "I Think We're Alone Now"
Oct. 26-28 Dennis DeYoung, original member of the group STYX "Come Sail Away"
Oct. 29-30 Jo Dee Messina "Lesson in Leavin'"
Oct. 31-Nov. 1 NEW! Everclear "Santa Monica"
Nov. 2-4 Boyz II Men "End of the Road"
Nov. 5-6 Sister Hazel "All For You"

N

ov. 7-9 Big Bad Voodoo Daddy "Go Daddy-O"
Nov. 10-12 Hanson "I Will Come to You"
Nov. 13-14 NEW! Maxi Priest "Close to You"
Nov. 15-16 NEW! Chaka Kahn "I Feel for You"
(Songs listed are for artist recognition only and may not be included in the concert play list)

Guests also can sip and nosh their way around the World Showcase and watch performers from many countries weave music, dance, acrobatics, comedy and other acts into the festivities. A sampling of World Showcase entertainment includes:
Contemporary twist to Scottish folk music by the Paul McKenna Band (United Kingdom pavilion)
Classic American pop hits performed a cappella by American Music Machine (America Gardens Theatre)
Perfect harmony of Voices of Liberty (American Adventure rotunda)
Infectious beat of internationally acclaimed Mariachi Cobre (Mexico pavilion)
Retro British hits by British Revolution (United Kingdom pavilion)
Jaw-dropping stunts by The Jeweled Dragon Acrobats (China pavilion)
Hilarious antics of World Showcase Players (United Kingdom pavilion)
"IllumiNations: Reflections of Earth," lights up the World Showcase with lasers, music and fireworks to provide a "wow" ending to each festival evening.
For information about this and other events at Walt Disney World Resort, contact your Academy Travel Representative directly, or call 609-978-0740 for more information.
Academy Travel is an Authorized Disney Vacation Planner
Specializing in Walt Disney World, Disneyland Resort, Disney Cruise Line and Adventures by Disney Vacations
Back to Articles