You Can Fly! New interactive queue at Peter Panís Flight helps Set a Course for Never Land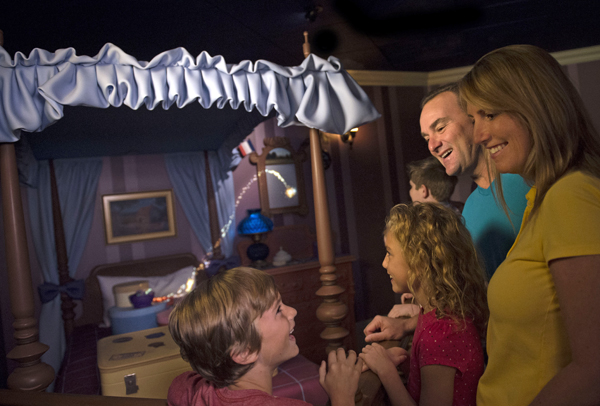 LAKE BUENA VISTA, Fla. ó Even before they soar above the rooftops of London on their way to Never Land, Magic Kingdom guests experiencing Peter Panís Flight are immersed in a magical world thanks to a new interactive queue. The eye-filling opening scene includes a corridor of interactive murals. Tinker Bell flies around the room and gets playful in the nursery of the Darling children. Enthralled guests are able to interact with some of the toys; their own shadows dance and play on the walls with the characters of the epic story, before being sprinkled with pixie dust and flying away. The new, air-conditioned queue joins other entertaining ďfirst scenesĒ such as at Seven Dwarfs Mine Train, Dumbo the Flying Elephant, The Many Adventures of Winnie the Pooh and Haunted Mansion.
For information about the new interactive queues at Walt Disney World, contact your Academy Travel Representative directly, or call 609-978-0740 for more information.
Academy Travel is an Authorized Disney Vacation Planner
Specializing in Walt Disney World, Disneyland Resort, Disney Cruise Line and Adventures by Disney Vacations
Back to Articles