Trattoria al Forno on Disney's Boardwalk: Newest Jewel in Walt Disney World Dining Scene
LAKE BUENA VISTA, Fla – Featuring authentic flavors of Italy's diverse regions – wood-fired pizzas, house-made pastas, hand-crafted mozzarella, imported charcuterie and cheese and a 100 percent Italian wine list – Trattoria al Forno at Disney's BoardWalk Resort is inspired by farms in the Italian countryside with an open kitchen and family-friendly dining rooms.

Trattoria al Forno opened Dec. 18, 2014, at Walt Disney World Resort.

"Trattoria al Forno is true Italian cooking," says Chef Lenny DeGeorge, executive chef, Concept Development, Walt Disney Parks & Resorts. "We've challenged ourselves to come up with authentic recipes that will wow our guests – this restaurant is the next chapter in Disney dining."

The space along the popular boardwalk is completely new, including several smaller dining spaces and a new wood-and-gas burning oven for grilling meats and fish and creating crisp Neapolitan-style pizzas. "Al forno" is Italian for "food baked in an oven," and Trattoria al Forno will feature pizzas in the classic style of Naples, Italy, with simple tomato sauce and fresh mozzarella.

It's the attention to quality and detail that sets Trattoria al Forno apart, says DeGeorge. "We've got an authentic prosciutto slicer, we're making cavatelli pasta in-house, pickling peppers, making mozzarella, and serving spectacular pizza pies."

Interior Showcases Love of Food, Family

Walt Disney Imagineering and Disney Parks Food & Beverage Concept Development have crafted a backstory that builds upon the Disney legacy of storytelling and originality.

"The Trattoria al Forno story was inspired by the authentic Italian menu and the rich storytelling of the turn-of-the-century boardwalk setting," says Missy Renard, Walt Disney Imagi
neering resorts art director.

The story holds that an Italian family ran a modest tavern and boarding house on the boardwalk, which expanded over the years into a popular restaurant. The menu's mix of authentic and innovative dishes supports the story of the restaurant being handed down, with each generation adding their own touches to the meals and the restaurant's design.

The new restaurant is arranged as a series of separate rooms, starting with the original Entrata, or entrance, where the story begins. An arched brick wall with an aged keystone medallion anchors the room and introduces the traditional building materials used throughout the restaurant. Along the back wall, a custom wine cabinet displays authentic regional wines offered on the menu. Vintage family photos line the walls and introduce the generational story. The color palette throughout is inspired by the fresh ingredients used to make the flavorful dishes.

"As the restaurant was growing, boardinghouse rooms were converted into additional dining spaces," explains Renard. "There are four distinct dining rooms, with furnishings, finishes and lighting relating to the character of each original boarding house room."

The first room, the Cucina, is designed as the eat-in kitchen for the boarding house guests. The forno, or oven, with its rustic wood mantle and copper hood, is the centerpiece. Next is the Sala da Pranzo, the formal dining room, which showcases the family's fine silver, glassware and eclectic china in a grand hutch, with two crystal chandeliers above in the vaulted ceiling.

"The finishes are more opulent – carpet, draperies, settee-style seating and a communal table in front of the show kitchen," says Renard.

The Sala da Pranzo leads into Salotto, or living room, of the old boarding house, now a dining area with tufted circular booths and upholstered chairs, and photos of vintage Italian market scenes decorating the walls. Finally, the Taverna is a secluded dining area located in the structure's original tavern, where the mirrored back bar still hangs in front of exposed brick walls.

"The three main dining rooms are open to the show kitchen and to each other, but the styling differences in each create individual dining experiences," says Renard. "The result is a combination of intimate and lively dining spaces with a tailored progression of storytelling."

Classic Italian Cuisine

Trattoria al Forno showcases Old World techniques, including handcrafted mozzarella made daily and served with local heirloom tomatoes, cavatelli pasta (small shapes that resemble hot dog buns) and genuine Neapolitan-style pizzas baked in wood-burning ovens. A beautiful Italian flywheel slicer slices paper-thin Italian meats, served with a variety of olives and crisp bread.

Italy is just half the size of Texas but has wonderfully diverse cuisine, and Trattoria Al Forno will showcase dishes from Italy's various regions – for instance, veal Marsala from Sicily, pizza from Campania, spaghetti alla carbonara from Lazio, Parmigiano Reggiano from Emilio-Romagna and risotto from Lombardy. Add classic Italian desserts with an after-dinner cappuccino for a perfect ending.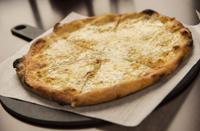 Chef Dee Foundoukis, who heads up the kitchen, says the chicken Parmesan is thinly pounded, cooked to order and served with fresh tagliatelle pasta. Whole fish is grilled and fileted tableside. The 16-ounce T-bone steak is served Florentine-style with a simple brush of herb oil. Ciabatta is made in-house. "We're sourcing locally and making as much in our own kitchen as possible," says Foundoukis.

Foundoukis says she is most proud of her "Sunday gravy," a simple tomato sauce made with tomatoes, chicken stock, fennel, herbs and a dash of red pepper flakes – the perfect base for spaghetti and 100 percent beef meatballs. The restaurant's beef Bolognese is a tender, stewed pot roast.

I

talian-Style Breakfast

Waffles with espresso-mascarpone cream . . . caramel apple crumb pancakes . . . poached eggs with fennel sausage, Parmesan and tomato gravy over soft polenta . . . press-pot coffee . . . the breakfast menu at the new Trattoria al Forno offers American favorites along with some classic Italian tastes.

"Fresh ingredients are key," says Foundoukis. "You can get a classic American breakfast with bacon and eggs, but we wanted to offer some Italian tastes, too." Like the frittata and the scrambled eggs with fresh mozzarella, tomatoes and basil. Or cured Italian meats with tomatoes, hard-boiled egg and cheese with fonduta, a warm, cheesy sauce for dipping bread.

Simple flavors include vanilla-blueberry steel-cut oatmeal with maple syrup, seasonal fresh fruit and a granola yogurt parfait with berries.


Wines, Craft Cocktails

Wine with food is a way of life in Italy, and Trattoria al Forno's wine list "takes guests on a historic journey through the Italian wine regions," says Jason Cha-Kim, beverage manager for Disney Parks & Resorts.

"It's unusual to have a 100 per cent Italian wine list," says Cha-Kim, who curated a list of about 70 wines from Italy's 20 wine regions. "From Tuscany, we describe Chiantis and Super Tuscans," says Cha-Kim. "From Piedmont, Barolo and Moscato d'Asti . . . and we offer wines from regions that some guests may not be familiar with, so we add a description for every single wine, along with the region and grape varietal."

Signature cocktails and Italian beers and sodas round out the drink menu, with a signature-blend Italian coffee roasted just for Trattoria al Forno.

Trattoria al Forno is open 7:30 a.m.-11 a.m. for breakfast, 5 p.m.-10 p.m. for dinner, and accepts the Disney Dining Plan.
For information or to make dining reservations at Walt Disney World Resort, contact your Academy Travel Representative directly or call 609-978-0740
Academy Travel is an Authorized Disney Vacation Planner
Specializing in Walt Disney World, Disneyland Resort, Disney Cruise Line and Adventures by Disney Vacations
Back to Articles