Walt Disney World Resort Celebrates American Indian Culture in New Gallery Exhibition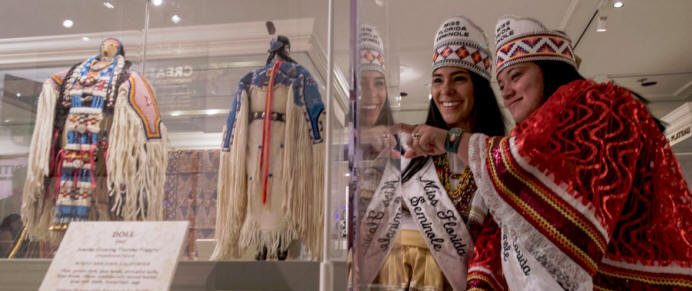 "Creating Tradition: Innovation and Change in American Indian Art" debuts inside The American Adventure pavilion at Epcot
LAKE BUENA VISTA, Fla. – American Indian history and culture come to life in a new art exhibition at Walt Disney World Resort that debuted July 27. "Creating Tradition: Innovation and Change in American Indian Art" at Epcot displays the work of contemporary Native artists alongside artifacts from centuries past, demonstrating how ancestral craftsmanship influences modern generations.

The exhibition opened at the American Heritage Gallery inside The American Adventure pavilion. The 89 pieces on display represent 40 different American Indian tribes from seven geographic regions across the United States.

"At Epcot, guests are invited to celebrate the limitless possibilities of human imagination and innovation." said Melissa Valiquette, vice president of Epcot. "By showcasing artwork from so many diverse American Indian tribes, 'Creating Tradition' is a wonderful way to share a vital part of the United States' culture with all those who visit The American Adventure."

Highlights from the collection include:
Fashion designer Loren Aragon (Acoma Pueblo) used the patterns on a jar made in the 1900s by an Acoma Pueblo potter as inspiration for his "Ancient Resonance" dress.
A Pokagon Potawatomi black ash hamper basket, made in the early 1900s, is paired with modern baskets, exemplifying how this technique is maintained over centuries. For example, on display is "Mother's Womb," a basket made by Cherish Nebeshanze Parrish (Potawatomi/Odawa) in 2011.
A Chilkat blanket from Alaska dating to the 1890s complements "Raven and the Box of Daylight," a 2017 glass sculpture by Preston Singletary (Tlingit). This piece shows how Singletary experiments with designs from his Tlingit heritage in mediums beyond traditional Native materials.
"Creating Tradition" also offers three interactive video exhibits where contemporary American Indian artists share perspectives on their work and culture. When guests wave their hands in front of a display resembling a campfire, the "flames" transform into a video presentation. Music playing in the gallery, performed by Native musicians, supports the objects and regions represented throughout the exhibition.

The new art exhibition is produced in collaboration with the Smithsonian's National Museum of the American Indian in Washington, D.C., and the Museum of Indian Arts and Culture in Santa Fe, New Mexico. Leaders from both cultural institutions were on hand for the gallery opening.

"I am delighted to recognize this association with Disney as their leadership shares the vision and creativity of contemporary American Indian artists with international visitors," said Kevin Gover (Pawnee), director of the National Museum of the American Indian. "We hope Epcot visitors will see the American experience begins with the American Indians who have always been here."

"We are honored to collaborate with Walt Disney Imagineering and the Smithsonian in developing this exhibition," said Della Warrior (Otoe-Missouria), director of the Museum of Indian Arts and Culture. "Hopefully, it will foster a greater understanding and appreciation of the various tribes located in almost every state in this nation, and people seeing these artifacts will be inspired and strive to learn more about American Indians."
To learn more about planning a

Walt Disney World Resort

vacation, contact one of our Academy Travel Representatives directly, or call 609-978-0740

Click here for a No Obligation Disney Vacation price quote
Academy Travel is an Authorized Disney Vacation Planner and has been designated as a
Platinum Earmarked Travel Agency
Specializing in Walt Disney World, Disneyland Resort, Disney Cruise Line, Adventures by Disney Vacations and Aulani, a Disney Resort & Spa
Back to News Articles