Academy Travel - Authorized Disney Vacation Planner
Questions? Call us at
609-978-0740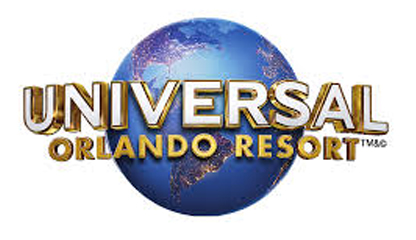 Luxury Meets Family-Friendly at Loews Sapphire Falls Resort
By Kristi DeRubertis, thekingdominsider.com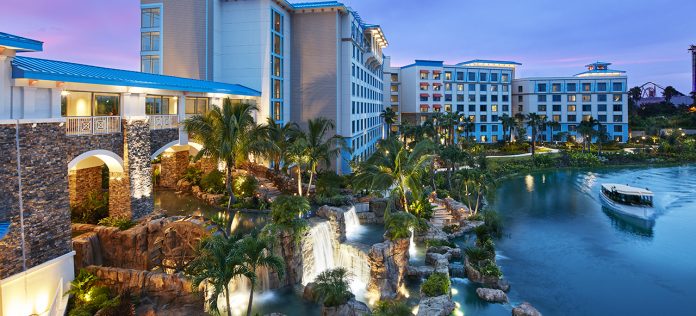 It's not often that the stars will align and I stumble upon a resort that provides guests with the luxury of a plush hotel, combined with family-friendly elements like activities at the pool and kid-friendly restaurants. Just because we're a family with two little ones, doesn't mean my husband and I don't want the luxury of a beautiful resort. Although at the same time, should our children decide to act like little Lost Boys at any given point- we'd like a resort where we won't be judged and given the occasional side-eye.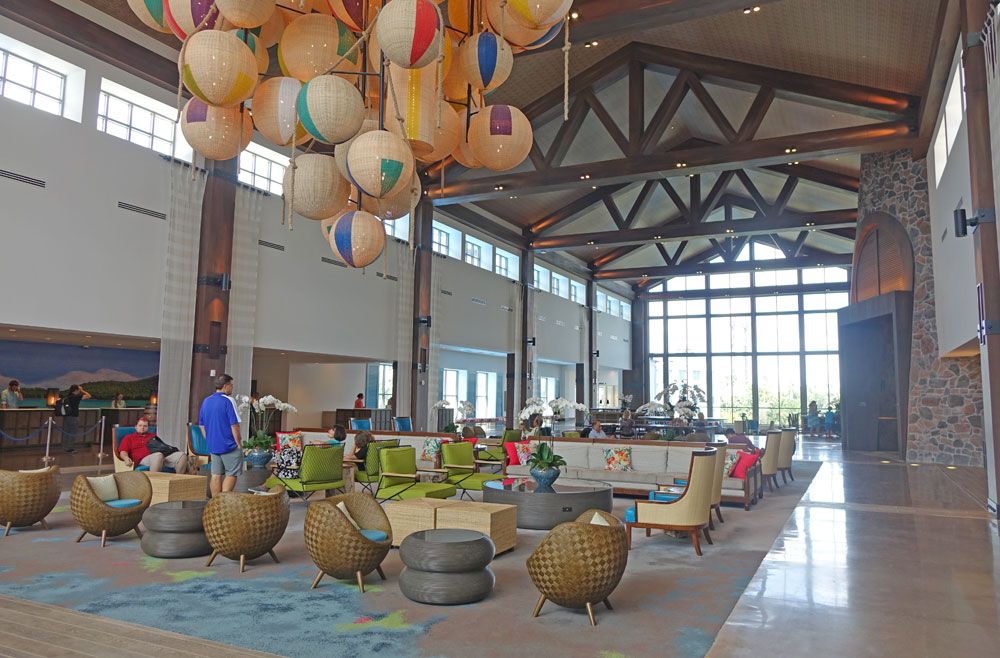 One hotel, in particular, has blown me away when it comes to family luxury- Loews Sapphire Falls Resort at Universal Resort Orlando. From the moment you walk in, it feels like home. I get that feeling when I walk into just about any Disney World Resort, especially the resort I grew up going to, The Polynesian. It's a rare occasion when another hotel, anywhere- not just Universal, gives me that feeling. Sapphire Falls accomplishes that with it's bright, airy and perfectly themed lobby. As if it's welcoming me with open arms.

I would describe Sapphire Falls as casual Caribbean elegance. Expect a laid-back atmosphere that's chic and modern — in everything from decor to amenities — yet cozy enough to feel like home after days spent in any of Universal's three epic parks. Here are a few more reasons as to why I'd choose to stay at Sapphire Falls over and over again:

Location
In general, it's super easy to get around Universal Resort. But going a step further, Sapphire Falls is in the middle of it all. There are 3 ways to get to Universal's parks and City Walk; Water Taxi, Walking Path, and Resort Shuttle.

Water Taxi is my favorite mode of transportation. Sapphire Falls serves as the main hub for other resorts to catch the water taxi as well. If you're staying at Cabana Bay or Aventura, you will walk to Sapphire and catch the boat from there. We never waited more than 15 minutes for a boat, and the ride along the waterway is peaceful and beautiful. You'll also participate in a security check at the boat dock, which will allow you to enter any park without having to go through a check again.

The walkway from Sapphire Falls is about a 15-minute walk. You can take a leisurely stroll through other resorts along the way, beautiful and lush gardens and take in all the sites and sounds. Although it's absolutely serene, it wouldn't be my first choice after a long day in the parks while pushing two kids in a stroller. That's where I'd fall back to the water taxi option.

Every hotel at Universal does have a shuttle. However, with Sapphire Falls you can walk to all the parks (including Volcano Bay), or take a water taxi. The shuttles are great but it could take you an hour just to get somewhere that would've taken you 15 minutes to walk. When you're a Disney person, you know how much we rely on those Disney buses (even though we love to hate them). Universal isn't like that, you're literally staying in the middle of all the action.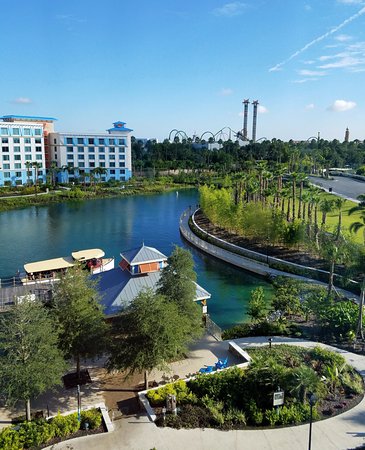 Guest Rooms
Nothing is "standard" about this resort and that includes the guest rooms. The rooms are bright with lots of natural light and incorporate a blue color palette with tropical accents that tie in the overall theme of Caribbean elegance. What I love most about the decor is it's not your typical hotel room. If I had a chance to create the interior of my dreams with my house, I would design it just like the rooms at Sapphire. From the beautiful glass shower doors, white subway tile and color tones, it's sheer perfection.

Each standard room in Sapphire Falls is 321 square feet in size. Some rooms have a single king bed (maximum occupancy is 4 people); others have two queen beds (maximum occupancy is 5 people). Both types of standard rooms have one bathroom with separate bath and vanity areas (i.e. there is a shower and toilet in one compartment and sink and vanity in another compartment). The resort offers pool and water views, but unlike most resorts, there really isn't a bad view at Sapphire Falls.

My favorite thing about Sapphire Falls is the Kid Suites. Like Loews' other hotels at Universal Orlando Resort, Sapphire Falls offers Kid's Suites which are rooms configured as a King Bedroom that connects to a room with two twin beds. The room with the twin beds has no door to the hallway. Meaning, your children won't be able to escape. It's an excellent choice for families, as there is ample space, privacy, cute nautical furniture, and two TVs.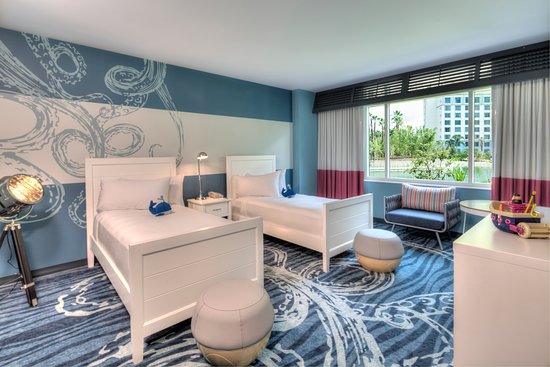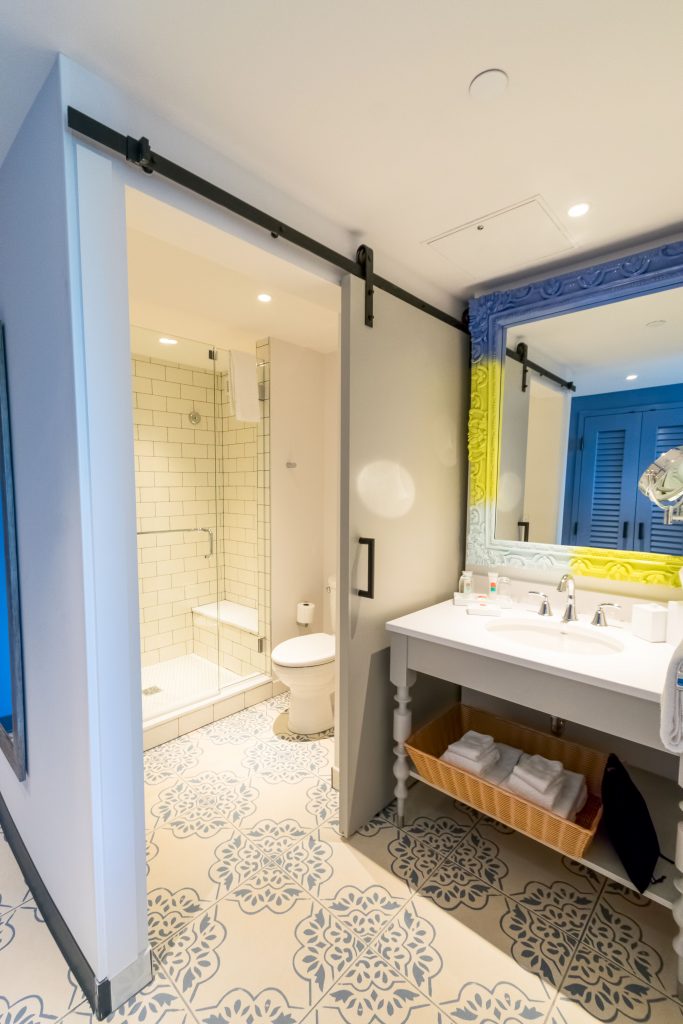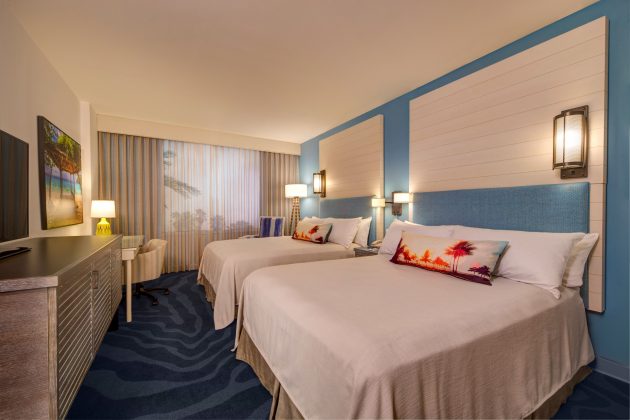 The Pool
The resort surrounds a massive 16,000 square foot pool (the largest at Universal Orlando Resort), cleverly configured with a fun waterslide, shallow sand beaches, and kid-friendly play areas. If you aren't familiar with Universal but are Disney World, I would describe Sapphire's pool as the equivalent to Storm Along Bay at Disney's Yacht and Beach Club.

Let's discuss the landscape- When you look at the Sapphire Falls Resort pool, you are supposed to feel as though you have been transported to a natural island body of water. I haven't felt like this at a pool since I was last at Atlantis in the Bahamas. I easily forget that I'm actually in Central Florida. The pool is surrounded by cascading waterfalls, including the grand Sapphire Falls that give the resort its name.

The pool has not one but two zero-entry areas. Other special features include a 226 square foot hot tub, a 100-foot long flume water slide, and a unique cave tunnel. You can also visit the other recreational facilities located near the pool like the game room and fitness center. There's no shortage of activities either. Alongside the Sapphire Falls Resort pool, you'll find a very large fire pit area. The fire pit features ample seating and is lit every night (weather permitting). There's also a kid-friendly play area with 24 pop-up water jets. At dusk, guests can watch a poolside movie while they're swimming or lounging by the pool. Other poolside activities include bingo, ping-pong, and occasional hula-hoop contests. I suggest spending an entire day just at the pool.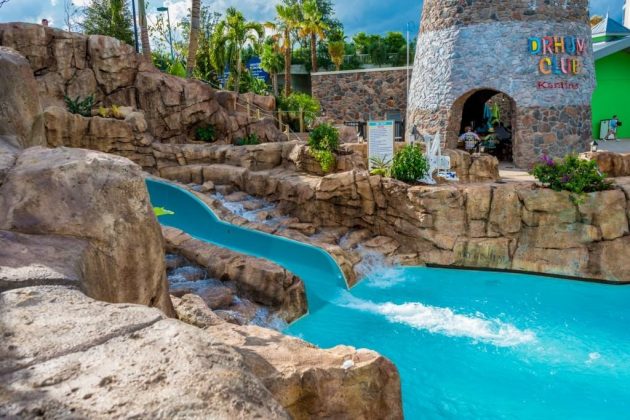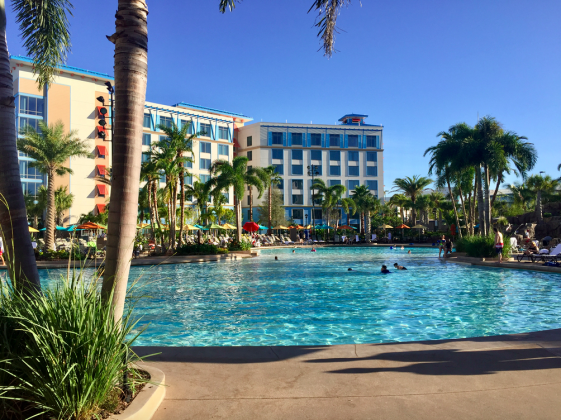 Food
Some of my favorite restaurants and dining areas at Universal are located within the Sapphire Resort. From grab and go, quick service, to sit-down dining, there's no shortage of options and something for everyone.

Amatista Cookhouse: This Sapphire Falls restaurant serves breakfast, lunch, and dinner. The cuisine is Caribbean themed. Everything is prepared in an open exhibit kitchen, so if you sit in the right place, you may be able to watch your meal being prepared. Amatista Cookhouse has indoor and outdoor seating in addition to private seating options. The decor is what pulled me into this restaurant. I would describe it as beachy-casual and is perfect for families or a Universal date night.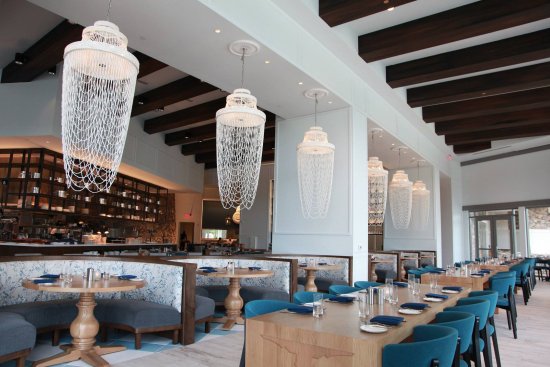 Drhum Club Kantine: Located near the fire pit area at the pool, Drhum Club Kantine is an island-inspired retreat that serves up fresh seafood and tropical drinks.

New Dutch Trading Co.: This is where you'll most likely grab your morning muffin and coffee, or hit up for a quick bite on your way into the parks. Although quick, it serves up delicious food and breaks the mold for a traditional "grab and go" type restaurant.

Strong Water Tavern: The lobby lounge at Sapphire Falls features a ceviche bar, vintage rums, daily rum tastings, and a rum specialist to help you choose just the right drink. Strong Water Tavern also serves both lunch and dinner. Inside seating features giant TV's and a rustic decor, while outside seating features spectacular views of the pool and resort.

Here's the best part, you don't need to book reservations months in advance before your trip. So many of us who go to Disney World have conformed to this notion of having to schedule meals months before we actually arrive and find ourselves not being able to make walk-up reservations. That's not the case at Sapphire Falls. I've eaten at Amatista twice now and walked up each time. I can't tell you how refreshing it is to know I can just walk up to any hostess stand and be seated in a timely manner (if not, right away).

Resort Perks
Loews Sapphire Falls Resort is known as a Preferred Hotel, which basically means that it is a mid-priced resort compared to the other on-site hotels. Because Sapphire Falls is an on-site hotel, you get special park-related benefits just for staying on the Universal Orlando property. These benefits include:

Early Entry- staying at Sapphire Falls does get you into the Wizarding World of Harry Potter and select attractions at Volcano Bay one hour before the normal park opening times, so there are some perks of staying here over a non-Universal hotel. It doesn't give you instant access to Express Pass (like Portofino Bay and the Hard Rock), but you still have the option to purchase it as an add-on to your ticket.

Resort-wide charging privileges. You can use your Sapphire Falls room key to pay for food and merchandise throughout the hotel, theme parks, and CityWalk. Your purchases will be charged to your room and can be paid for upon check-out. You're also given access to free merchandise delivery. This is a great way to shop while you're in the parks but not have to carry the shopping bags around with you.

Additional complimentary services are full access to select live entertainment venues at Universal CityWalk for your length of stay and complimentary water taxis or shuttle buses that take you directly to Universal Studios, Islands of Adventure, Volcano Bay and CityWalk.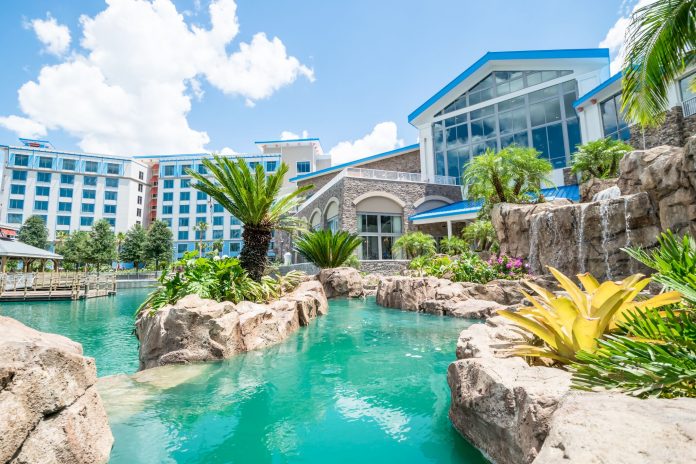 As you can see, there's no stone left unturned when it comes to Loew's Sapphire Falls Resort at Universal Resort Orlando. It's the perfect resort for families who also crave the amenities and feel of a luxurious island resort. Much like all of Universal's hotels, the price point is spot on- making it affordable and within reach for travelers, especially those with families.

Want to go to Universal Resort Orlando? The Kingdom Insider recommends Academy Travel. Click on their name to visit their website or call them at, 609-978-0740.
To

l

earn more about Universal Studios Orlando or to receive a no-obligation vacation price quote, contact one of our Academy Travel Representatives directly, or call 609-978-0740

Click here for a No Obligation Disney Vacation price quote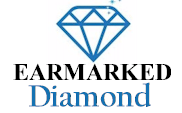 Book with Confidence!
Academy Travel is a Diamond EarMarked Travel Agency
The Highest Distinction Awarded to Travel Agencies from the Walt Disney Travel Company

More Reasons to Plan Your Next Disney Vacation