Star-Studded Entertainment Lineup and Magical Parade Floats Make the Season Bright During the 27th Annual 'Disney Parks Christmas Day Parade' Telecast on ABC-TV
Lake Buena Vista, Fla. and Anaheim, Calif. (Dec. 3, 2010) – Disney Parks has pul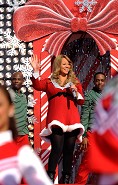 led out all the (silver) bells and whistles for the 2010 "Disney Parks Christmas Day Parade" TV special - including performances from five-time GRAMMY® Award-winning artist Mariah Carey, country music chart-topper Darius Rucker, singer/actress Amber Riley, Disney Channel stars Selena Gomez and Debby Ryan, young soprano sensation Jackie Evancho, "American Idol" Lee DeWyze, swing band Big Bad Voodoo Daddy, professional dancers from ABC-TV's "Dancing with the Stars" and R&B sensation Sean Kingston.

The annual holiday television special airs Dec. 25 on ABC-TV. Viewers can check local broadcast times online at http://DisneyChristmasDayParade.com and find out more information about the parade telecast.

Chart-topping Celebrities Ring in the Magical Holiday Spirit

From start to finish, the 2010 "Disney Parks Christmas Day Parade" is packed with festive musical performances from Walt Disney World Resort in Florida and Disneyland Resort in California.
(Please note: all talent subject to change)
Global pop superstar Mariah Carey gives fans a tuneful taste of her brand-new holiday album, "Merry Christmas II You," with a new song, "Oh Santa," and her perennial holiday smash, "All I Want For Christmas Is You"
Big band Big Bad Voodoo Daddy gets the season swinging with "Christmas Is Starting Now" from the fun-filled holiday album, "Phineas & Ferb: Holiday Favorites"
Professional dancersfrom ABC-TV's smash-hit series, "Dancing With The Stars," Tony Dovolani, Kym Johnson, Louis Van Amstel, and Chelsea Hightower, join in with a jovial jive
Former Hootie & the Blowfish front man and current country music star Darius Rucker shares his new hit holiday single, "Candy Cane Christmas"
Singer Amber Riley stars in a balcony performance aboveMain Street, U.S.A, as Disney princesses and princes join in a regal dance below
R&B superstar Sean Kingston performs the holiday classic, "This Christmas"
Disney Channel starlet Selena Gomez, from the Disney Channel hit show "Wizards of Waverly Place," casts a holiday spell with the seasonal favorite, "Winter Wonderland"
"American Idol" Season 9 Champion Lee DeWyze performs his own rousing rendition of "The Little Drummer Boy"
Ten-year-old soprano sensation Jackie Evancho sings "Pie Jesu," one of Andrew Lloyd Webber's songs that she wowed audiences with this year on the TV show "America's Got Talent"
Direct from Disney Channel, "The Suite Life on Deck" star Debby Ryan rocks the parade route with her modern take on "Deck the Halls" from the all-new Disney holiday movie, "The Search for Santa Paws"; she'll be joined by little Santa Paws himself, the star of the film, which is now available on Disney Blu-ray Combo Pack, DVD and Movie Download
Holiday Hosts with the Most!

Ryan Seacrest leads the fun as the show's host at Walt Disney World Resort in Florida, and Nick Cannon hosts from Disneyland Resort in California. Maria Menounos serves as a special co-host at Walt Disney World Resort in Florida, and Samantha Brown checks in as the show's travel correspondent.

Disney Stars and More Gather for this Annual, Family-Friendly Television Extravaganza

Dressed in their holiday best, Mickey Mouse, Minnie Mouse, Pluto, Donald Duck and Goofy take to Main Street, U.S.A. to celebrate this special time of year and invite the entire Disney character family to join in the merriment. The fun doesn't stop there! Straight from the North Pole, Gingerbread Men, steadfast Toy Soldiers and prancing reindeer spread cheer during the festive parade, concluding with a very jolly guest of honor.

Also joining in the festivities:
(Please note: all characters/floats subject to change)
Making his "Disney Parks Christmas Day Parade" debut, Duffy the Disney Bear joins his new pals for the holiday special. Duffy, the newest character at Disney parks, is Mickey Mouse's very own teddy bear
Silly stepbrothers Phineas and Ferb, from the popular Disney Channel animated series, pack the parade with their playful antics
Lightning McQueen and Tow Mater, from the Disney•Pixar hit film "Cars," and Woody and Jessie,from the Disney•Pixar trio of "Toy Story" films, spread a revved-up toybox of holiday magic along the parade route
Even the dark side can't resist the spirit of the season – Darth Vader and his legion of Stormtroopers from the Star Wars film saga march down Main Street, U.S.A.; their first-time appearance in Magic Kingdom is in celebration of the new Star Tours 3-D attraction, coming soon to Disney parks; the "reimagined" Star Tours attraction will open at Walt Disney World Resort and Disneyland Resort in 2011
Disney princesses Jasmine, Cinderella, Snow White, Sleeping Beauty and Belle share a royal holiday with guests along the parade route
The famous Disney Parks Toy Soldiers lead the way during "The Toyland March;" the brightly colored toys are joined by the very merry Gingerbread Men
Wrapping up the TV special, the one-and-only Santa Claus, along with his regal reindeer, glide down Main Street, U.S.A. spreading the message of giving and joy this holiday season
As Buzz Lightyear Might Say, "To Disney Parks, and Beyond!"

In addition to the parade fun at Disneyland Resort and Walt Disney World Resort, expert travel correspondent Samantha Brown gives viewers a taste of what's coming soon around the globe. First, she checks in from Papenburg, Germany, with an exclusive preview of the Disney Dream, the newest Disney Cruise Line ship. The Disney Dream will launch in January 2011 from Port Canaveral, Fla. She also gives viewers a taste of the all-new Disney Destination, Aulani, a Disney Resort & Spa, Ko Olina, Hawai'i. The new resort opens Aug. 29, 2011.

What Time Does It Air?

The 27th annual "Disney Parks Christmas Day Parade" airs Christmas Day on ABC-TV. Viewers are also asked to check their local listings and go online to http://DisneyChristmasDayParade.com for times and more information about the parade telecast.

The show is scheduled to air at the following times:

• Eastern Time Zone: Noon – 2 p.m.
• Central Time Zone: 11 a.m. – 1 p.m.
• Mountain Time Zone: 10 a.m. – noon
• Pacific Time Zone: 5 p.m. – 7 p.m.
• Los Angeles: 9 a.m. – 11 a.m.


Text Updates Available

Fans are invited to join the parade mobile text alert program to get fun information about the parade as well as submit holiday greetings, which may appear on the "Disney Parks Christmas Day Parade" broadcast! To sign up, send an SMS message with PARADE to 37275 (DPARK)*
(*Msg. & data rates may apply. Participants under 18 years of age must have parent/guardian's permission.)

The Parade Magic Continues on Radio Disney

Radio Disney will air a one-hour special on SATURDAY, DEC. 25 (9 a.m., ET/6 a.m., PT and 3 p.m., ET/Noon, PT) hosted by on-air personalities Ernie D and Jake Whetter. The "2010 Disney Parks Christmas Day Parade Special on Radio Disney" will feature behind-the-scenes interviews and sneak previews of performances by stars of the parade including Mariah Carey, Selena Gomez, Sean Kingston and Debby Ryan.
Academy Travel is an Authorized Disney Vacation Planner
Specializing in Walt Disney World, Disneyland Resort, Disney Cruise Line and Adventures by Disney Vacations
Back to Articles