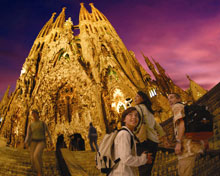 Special savings are in bloom this spring! Booking an Adventures by Disney itinerary means more than helping create Disney magic – it means helping create lasting memories. Find out about this special spring offer and the advantages of booking the following select destinations before May 31, 2008:


A Guided Tour of Glitz and Glamour
Hooray for Hollywood! Adventures by Disney is rolling out the red carpet for a behind-the-scenes glimpse of magic and imagination. The "Backstage Magic" tour reveals the history of Hollywood landmarks and legends. Your Clients will marvel at the dream-makers of Walt Disney Imagineering, eat lunch on the Walt Disney Studios lot and get a peak behind the fantasy at the Disneyland® Resort, including Walt Disney's original apartment. This California adventure grants access to areas usually restricted to the public. Tell your Clients about this VIP experience!

Monuments and Milestones
The greatest American stories have jumped off the pages of history. The "Spirit of America" tour chronicles the birth of a nation with a privately guided journey through the historically rich cities of Philadelphia and Colonial Williamsburg. Also on the schedule is a bike ride through Washington D.C. Clients will be mesmerized by nation's captivating capital and magnificent monuments. This vacation will have you seeing red, white and blue!

Spectacular Surroundings
Blue skies, diamond-white beaches and colorful wildlife take center stage in Costa Rica. Literally translated as "Rich Coast," Costa Rica lives up to that name with natural wonders at every corner. Clients can anticipate an agenda with both action-packed and relaxing activities. They will feel connected with nature as they zipline through the rainforest, white-water raft on the Sarapiquí River and relax in private at Hidalgo Hot Springs. The "Path to Pura Vida" is a true call to the wild!

Idyllic Imperial Itinerary
Offer your Clients a getaway to places with penchants for beauty and indulgence. They will experience miles of magnificence with a journey to Austria and the Czech Republic. It's a vacation alive with medieval enchantment, majestic sightseeing and Mozart history. The itinerary includes a passage through the old world charms of Vienna, Salzburg and Prague. With the "Imperial Cities" tour, Clients are in for a royal treat as they cruise the Danube, dine in style and visit cities decorated with remnants of royalty.

A Spanish Sensation
"Gothic grandeur" doesn't begin to describe the spectacular sights of Spain. The "Grande Espana" tour will expose your Clients to an array of tastes and treasures. In their venture to Spain, they will explore the palaces of Madrid, kick up their heels with flamenco dance lessons in Seville and meander through the world-class museums in Barcelona. It's an undeniably dazzling destination!

A Tuscan Treat
It's a trip teeming with treasured sites of Italy! The "Taste of Tuscany" itinerary highlights the region rich in historical distinction and dining decadence. The agenda includes privately-guided tours of prominent Italian fixtures: the Coliseum, Pantheon, Michelangelo's David, Piazza Navona and the Spanish Steps. Offer Clients the opportunity to basque in the warmth of the Tuscan sun.