BURBANK, Calif. – Adventures by Disney (www.AdventuresbyDisney.com) has int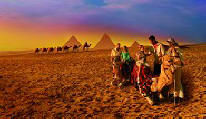 roduced its 2011 itineraries and adds a new destination to its collection – Egypt: "Pyramids, Pharaohs & Ancient Treasures."

Family-appealing vacations are a hallmark of Adventures by Disney. Egypt with its ancient and modern mysteries brings an exciting and exotic new dimension to the lineup in 2011.

"Adventures by Disney specifically designs each itinerary to entertain and enlighten every member of the family," said Karl Holz, president of Adventures by Disney. "Whether discovering the beauty of the United States or traveling the furthest parts of the globe, such as Egypt, Adventures by Disney provides the perfect way to travel as a family."

To the Pyramids – and Beyond

Picture arriving in Cairo and embarking on a privately guided tour of the Egyptian Museum of Antiquities with its extensive trove of mummies and ancient artifacts. Families will then take an unforgettable excursion to Giza for an up-close view of the Great Pyramids and the fascinating Pharaoh's Boat Museum. And what is a trip to Egypt without a camel-ride past the pyramids.

Journey to Southern Egypt with your fellow travelers and Adventure Guides on a three-day Nile River cruise and visit the riverside towns of Aswan and Luxor, as well as privately guided tours of temple ruins, including pharaohs Tutankhamen and Ramses VI.

Whether discovering how the ancient Egyptians created papyrus or learning how to write their family's name in hieroglyphics, there is something for everyone on this new itinerary, as well as the additional itineraries available through Adventures by Disney.

The Disney Difference

From snorkeling with sea turtles in the Galapagos to discovering Europe's classic history, each itinerary is as matchless as its surroundings. Yet one aspect holds true for every trip: the special touches that are collectively called "the Disney difference" …

Adventure Guide: Part storyteller, ambassador, concierge and role model, the Adventures by Disney Adventure Guides are the friendly hosts and travel specialists who lead guests on every trip. With two guides assigned for every group (of up to 44 people), travelers receive individual attention to ensure a fun and enriching vacation.

Junior Adventurers: Young travelers are transformed into Junior Adventurers – seeing, hearing and tasting things that they might otherwise not have experienced. The immersive activities created just for kids allow young travelers to learn and have fun in places like museums that aren't always as entertaining for the younger set. For example, at the Louvre in Paris, the Junior Adventurers play an Art Detective game throughout the museum with their Adventure Guides, while adults take a privately guided tour with an art historian. In addition, Adventure Guides are expert storytellers and are trained to create fun and unique, locally based experiences for the kids. On almost every departure, there is also a Junior Adventurers night, in which the kids have a special evening experience with their guides, while the adults get a quiet evening on their own at the resort.

Local Experts: An authentic Tuscan chef, a naturalist from Costa Rica, a Chinese tai chi master – these local experts share a passion; they live and breathe the local history and culture of their destination. They are an integral part of every Adventures by Disney vacation. They join guests to share their stories and provide an "insider's" perspective to each destination.

VIP Access: Travelers vacationing with Adventures by Disney receive VIP experiences that are practically impossible to schedule on their own. Special entry to otherwise crowded sites, unique accommodations (such as castles in Ireland and Germany, a dude ranch in Yellowstone, and at the base of a live, active volcano in Costa Rica). Guests also get backstage access of celebrated performances such as "The Lion King" in London. These are just a few of the exceptional moments woven through each itinerary, promising expedited service and a broader knowledge of each destination.

Adventures by Disney 2011 destinations include 25 global itineraries across six continents:

Africa, Asia & Pacific
· Egypt (7 nights) – Egypt: Cairo, Aswan, Luxor and the Nile
· Egypt (9 nights) – Egypt: Cairo, Aswan, Luxor, the Nile and Sharm el Sheikh
· Enchanted China (10 nights) – China: Beijing, Chengdu, Shanghai and Hong Kong
· Enchanted China (12 nights) – China: Beijing, Chengdu, Guilin, Xi'an, Shanghai and Hong Kong
· Safari to South Africa – South Africa: Cape Town, The Garden Route and Kapama Game Reserve
· Discovery Down Under – Australia: North Queensland, The Great Barrier Reef, Ayers Rock and Sydney

British Isles & Europe
· Cities of Knights and Lights – England and France: London and Paris
· The Emerald Isle – Ireland:Dublin, Killarney and Shannon
· Once Upon a Fairytale – Germany: Heidelberg, Waldeck, Rothenburg and Munich
· Alpine Magic – Italy and Switzerland: Lake Como, Zermatt and Lake Luzern
· Viva Italia – Italy:Rome, Tuscany and Venice
· Bella Italia – Central Italy: Sorrento and Florence

Latin America
· Path to Pura Vida – Costa Rica:San José, Tortuguero and Arenal National Parks
· Treasures of the Galapagos – Quito, Otavalo Valley and Galapagos Islands
· Sacred Valleys and Incan Cities – Peru: Sacred Valley, Machu Picchu, Cusco and Lima

North America
· Spirit of America – Philadelphia, Pa., Washington, D.C. and Colonial Williamsburg, Va.
· Quest for the West – Wyoming: Jackson Hole, Yellowstone and Grand Teton National Parks
· Southwest Splendors – Arizona and Utah: Sedona, Grand Canyon and Moab
· Backstage Magic – Southern California: Hollywood and Disneyland Resort
· Taming the Last Frontier – Alaska: Fairbanks, Denali and Kenai Fjords National Parks
· Rocky Trails and Mountie Tales – Montana and Canada: Glacier and Banff National Parks

Gateway and Signature Tours

In addition to the 21 core collection of itineraries, Adventures by Disney offers two specialty collections: the Signature Collection and the Gateway Collection. Featuring such extras as upgraded hotels, VIP amenities, special entertainment and additional, exclusive activities and enhanced elements on select trip components, the Signature Collection offers an even more extraordinary vacation.

Also, Adventures by Disney presents the Gateway Collection, the newest vacation option offering flexibility via expanded free time so there is more time to visit venues that interest a family most and is an affordable way to see some of the world's most desirable locales. Travel to Italy or London and Paris with no more than 50 guests, stay in comfortable lodging, enjoy the service of two Disney-trained Adventure Guides, VIP access to things difficult to arrange, special fun for the kids and expanded free time.

Signature Collection
· Path to Pura Vida – Costa Rica Signature:San José, Arenal National Park, Quepos and Manuel Antonio National Park
· Viva Italia – Italy Signature:Rome, Tuscany and Venice

Gateway Collection
· Gateway to Italy – Rome, Florence and Venice
· Gateway to London and Paris – London and Paris

Worldwide and on the Web

Just as Adventures by Disney creates family-friendly vacations with the child in mind, so, too, are online activities designed for kids. Junior Adventurers can get a taste of the authentic real-life experiences they will soon explore by means of destination-specific games, trivia, photos, downloadable coloring maps and countdown calendars (JuniorAdventurers.com).

Additionally, AdventuresbyDisney.com is designed to answer guests' primary vacation questions. Unsure where to travel? The unique Trip Selector tool narrows down the ideal choices based on the family's interests. Curious what to expect day-to-day? Travelers can reference the Frequently Asked Questions to find a plethora of information – everything from destination climate to children-friendly cuisine for each itinerary. Decide on a trip? The full E-brochure is available online for guests to e-mail and share with others planning the vacation. The website also features a condensed print version of each itinerary including dates and pricing ranges for easy hands-on reference.

About Adventures by Disney

As Disney Cruise Line revolutionized – and in some ways defined – the family cruise vacation, Adventures by Disney has recreated the way families think about vacationing together.

Launched in 2005, Adventures by Disney provides immersive, hassle-free and unforgettable guided group family vacation experiences to destinations in Europe, the Americas, Africa, Asia and Australia. Families traveling with Adventures by Disney receive exceptional service while taking part in extraordinary experiences from Cape Town to Paris, Yellowstone to Costa Rica, the ruins of Pompeii to the ruins of Machu Picchu, the Great Barrier Reef to the Great Wall of China and more.

With Disney-trained Adventure Guides, engaging activities, VIP experiences and personal touches throughout, Adventures by Disney excites and delights every member of the family. Guests wanting more information about Adventures by Disney can call Academy Travel at 609/978-0740.