In a nutshell, how would you describe the Aulani, A Disney Resort & Spa in Ko Olina, Hawai`i?
A premier oceanfront resort on the island of O`ahu, Hawai`i, the Aulani, A Disney Resort &
Spa in Ko Olina is a place for families to gather, reconnect and immerse themselves in the stories of Hawai`i. Storytelling vividly brings to life Hawaii's culture and connection to nature, so each member of the family gains from a deeper understanding, appreciation, and ultimately, enjoyment of Hawai`i. The design of the Resort honors Hawaiian tradition in its village concept, including hotel rooms, Disney Vacation Club Villas, meeting rooms and wedding facilities-spread over 21 wondrous acres. Disney's world-class service caters to your family's needs in ways unique to this destination. In a breathtaking setting-sweeping ocean views, glistening white sandy beaches, a pristine cove, lush tropical foliage, a water garden and salt-water lagoons perfect for swimming and snorkeling-this Resort & Spa is a premier vacation destination.

Why would I choose Ko Olina as a destination?
On the Wai`anae Coast of O`ahu, sheltered by mountains to the north, Ko Olina is a secluded paradise in a beautiful island setting, yet close enough to Waikiki to enjoy the shopping and activity there. Ko Olina is legendary as a source of inspiration to travelers. A place of breathtaking natural beauty where it's said that the goddess Pele visited to re-energize after traveling, Ko Olina was also a sacred place of renewal for Kamehameha the Great and his wife, Ka`ahumanu. Known for its sandy beaches, majestic seascapes and snorkeling, Ko Olina is home to many islanders who make their living from the rich agricultural tradition and fishing in the area.

What makes this a world-class resort unlike any other?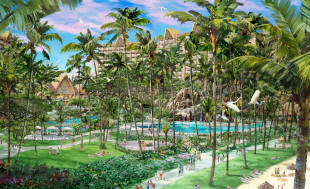 The Aulani, A Disney Resort & Spa in Ko Olina offers you the opportunity to discover Hawai`i, while experiencing everything you want from a vacation-leisure, adventure, family time and romance. Designed with families in mind, there's so much for each member of your family to do and see that you can choose to enjoy a complete vacation here-or venture out to nearby points of interest. You can spend hours just exploring the grounds. Pathways wind throughout a wonderland of water, with a river, large pools, waterslides and sparkling lagoons. Children will particularly enjoy the resort's fish ponds and tide pools filled with bright native sea life. Symbolic of the balance and harmony of masculine and feminine elements, 2 streams join together in a waterfall that flows into the tropical garden, giving way to majestic stands of coconut palms, then sandy beach. A family Resort, the Aulani, A Disney Resort & Spa in Ko Olina calls children to adventure. To the delight of our younger Guests, the magical and mischievous menehune (mythical Hawaiian elf-like inhabitants) are playfully hidden under lobby tables and are out in full view at the water playground, offering endless entertainment. For our adult Guests, Ko Olina offers all the amenities of a world-class resort. Unwind in our extraordinary spa, surrounded by peaceful rainbow reflections of light and color, where you can experience the traditional healing arts of Hawai`i and services, such as hydrotherapy and aromatherapy.

What was the inspiration for the remarkable design?
Celebrating the elegance and history of Hawai`i, the architecture and interior design of the resort takes its inspiration from Hawaiian culture. Inside and out, simplicity, fine materials and attention-to-detail reflect the layers of refined thinking that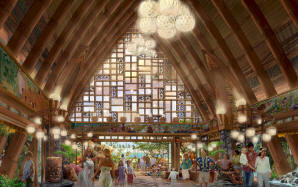 characterize Hawaiian art. The unique architecture evokes Hawaiian villages in a modern, awe-inspiring interpretation. At the Aulani, A Disney Resort & Spa in Ko Olina, ancient meets modern in a way that will make you marvel at the natural beauty and sophisticated elegance. A large volcanic rock passes from outside to inside the glass lobby wall. This reverence for nature is seen throughout, with volcanic stone columns that line the hallway, works of art perched in the crowns of lava rock rising from the lobby floor, and the lavish use of wood. Pools of water traverse the lobby, one tranquil and filled with lilies, the other rocky and wild, rushing out towards the sea. A dramatic, pitched-beam ceiling soars upward, enhancing the open-air ambiance created by walls of glass. Torch lights and calabash-inspired bowl lamps bring warmth to the interiors. Rooms are appointed with lustrous wood and Hawaiian elements, from the geometric patterns inspired by kapa cloth (textiles made from tree bark) to the craftsmanship you encounter at every turn.

What was the approach to creating this Resort?
Disney Imagineers teamed up with members of the local community to determine how the story of the Resort & Spa would unfold for Guests. Through this collaborative approach, the team sought to create an experience of total engagement with the land-revealed through storytelling. Examples of storytelling elements include the lobby mural depicting Hawaiian life and the pathfinding symbols on the floor, pointing makai, "towards the ocean," or mauka, "towards the mountain." Storytelling elements are woven together into an experience for each member of the family, in a journey of discovery and wonder at Ko Olina, "Fulfillment of Joy."

When will it open?
The Aulani, A Disney Resort & Spa in Ko Olina open

ed

in Fall 2011.