15th Annual Epcot International Food & Wine Festival
Continues Through Nov. 14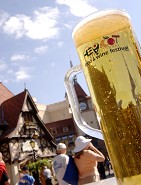 LAKE BUENA VISTA, Fla. – Food and wine aficionados – and music fans who like to "eat to the beat" – have two weeks at the beginning of November to get their fill of "delicious discoveries" before the 15th annual Epcot International Food & Wine Festival comes to a close on Nov. 14.
Tapas-sized portions of regional specialties and recommended wines and beers make perfect pairings at each of the 27 international marketplaces along the World Showcase promenade. The festival also includes live regional entertainment, daily wine and beer tastings, a series of special culinary programs, and the popular Eat to the Beat! concert series.
November's six-act lineup for Eat to the Beat! music concerts includes three artists who will be playing the event for the first time – Roger Hodgson (formerly of Supertramp), Hanson and Rick Springfield. Here's the full November schedule (artists subject to change without notice):
Nov. 1-3: Boys II Men ("End of the Road")
Nov. 4-5: Roger Hodgson (formerly of Supertramp) ("Give a Little Bit")
Nov. 6-7: Jon Secada ("Just Another Day")
Nov. 8-9: Hanson
Nov. 10-11: Rick Springfield ("Jessie's Girl")
Nov. 12-14: Big Bad Voodoo Daddy ("Go Daddy-O")
The concerts, which are included with Epcot admission, take place nightly at America Gardens Theatre at 5:15, 6:30 and 7:45 p.m. More info: disneyworld.com/foodandwine.

--------------------------------------------------------------------------------

Mickey's Very Merry Christmas Party Lights Up Magic Kingdom
On 19 Magical Evenings between Nov. 8 and Dec. 19, 2010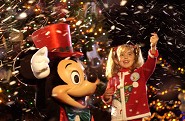 LAKE BUENA VISTA, Fla. – Larger-than-life gingerbread men, giant toy soldiers and Florida "snowflakes" combine to create the perfect holiday setting on 19 magical evenings between Nov. 8 and Dec. 19, 2010, during Mickey's Very Merry Christmas Party at Magic Kingdom.
The after-hours party (requiring a separate admission ticket) features special entertainment, including "Mickey's Very Merry Christmas Parade," the"Holiday Wishes, Celebrate the Spirit of the Season" fireworks spectacular and the centerpiece of Magic Kingdom – Cinderella Castle – draped with 200,000 sparkling white lights.
Party-goers also enjoy complimentary hot cocoa, cookies and apple slices, meet and greets with Disney characters decked out in their holiday best and unlimited admission to favorite attractions.
The party kicks off at 7 p.m. on select evenings and continues until midnight. Party dates are: Nov. 8, 11, 12, 16, 18, 19, 28, 30 and Dec. 2, 3, 5, 7, 9, 10, 12, 14, 16, 17 and 19, 2010. Day-of-party ticket pricing is $59.95 ($53.95 for ages 3-9). Advance tickets are available with $6 savings for most dates. More info: disneyworld.com/christmasparty.

--------------------------------------------------------------------------------

Festival of the Masters at Downtown Disney Nov. 12-14, 2010
LAKE BUENA VISTA, Fla. – Approximately 145 award-winning fine artists, 200 chalk artists and 40 folk artists will showcase their one-of-a-kind and limited-edition painting, photography, sculptures, jewelry and more at Festival of the Masters presented by Sharpie® Nov. 12-14, 2010, at Downtown Disney.
One of the Southeast's most highly regarded juried art festivals since 1975, Festival of the Masters features live entertainment and family-friendly activities each day. Admission and parking are complimentary. More info: disneyworld.com/artfestival.

--------------------------------------------------------------------------------

PGA TOUR Returns to Walt Disney World Resort
For 40th Golf 'Classic' Nov. 11-14, 2010
LAKE BUENA VISTA, Fla. – The PGA TOUR returns to Walt Disney World Resort for the 40th consecutive year Nov. 11-14 for the 2010 Children's Miracle Network Classic. The Fall Series event, held at Disney's Palm and Magnolia golf courses, features some of the world's top golfers playing in one of the resort's longest-running traditions.
Initially held as the Walt Disney World Open Invitational, Jack Nicklaus claimed the first three titles, including the inaugural event in December 1971 less than three months after the resort opened. More recently, Tiger Woods, Vijay Singh and Davis Love III have held aloft the Mickey Mouse, Goofy and Donald Duck-themed trophy.
In its fourth year with current title sponsor Children's Miracle Network, the Classic has enjoyed three straight thrilling finishes, with one stroke providing the winning difference for Stephen Ames (2007 and 2009) and Davis Love III (2008). The recent nail-biters, which included a three-man playoff in 2009, mark a continuation of the Classic "norm": 21 of the last 28 events have been decided by one stroke or in sudden-death playoffs.
This year, guests can check out the Wine & Dine Walk – themed after the Epcot International Food & Wine Festival – during all four days of the tournament. Spread across the Magnolia golf course, the food, beer and wine stations are positioned along key holes and offer culinary treats from some of Disney's newest and most popular restaurants.
A popular destination for golfers and their families, the Classic serves as the season finale for the PGA TOUR and the final opportunity for golfers on the threshold to play their way into the Top 125 on the money list. More info: childrensmiraclenetworkclassic.com.

--------------------------------------------------------------------------------

Candlelight Processional Returns to Epcot Nov. 26-Dec. 30, 2010

LAKE BUENA VISTA, Fla. – Whoopi Goldberg, Susan Lucci, Brad Garrett and Isabella Rossellini are all part of a lineup of 12 celebrity narrators who retell the joyous story of Christmas during Candlelight Processional Nov. 26-Dec. 30, 2010, at Epcot.
Joined by a mass choir and 50-piece live orchestra, this renowned holiday tradition takes place at America Gardens Theatre nightly at 5, 6:45 and 8:15 p.m.

Scheduled celebrity narrators include (subject to change without notice):
Nov. 26-28: Isabella Rossellini
Nov. 29-Dec. 1: TBD
Dec. 2-4: Corbin Bernsen
Dec. 5-6: Susan Lucci
Dec. 7-9: Jodi Benson
Dec. 10-11: Whoopi Goldberg
Dec. 12-15: Steven Curtis Chapman
Dec. 16-18: Thomas Gibson
Dec. 19-21: Trace Adkins
Dec. 22-23: Brad Garrett
Dec. 24-27: Edward James Olmos
Dec. 28-30: Marlee Matlin/Jack Jason

Performances are included with Epcot admission, and guests are advised to arrive early. To ensure a seat for this joyous favorite, Candlelight dinner packages are available at select Epcot restaurants and include guaranteed seating for Candlelight Processional and a special viewing location for "IllumiNations: Reflections of Earth." Dinner packages can be booked by calling 407/WDW-DINE. More info: disneyworld.com/holidays.

--------------------------------------------------------------------------------

Old Spice Classic at ESPN Wide World of Sports Nov. 25-26 and Nov. 28
LAKE BUENA VISTA, Fla. – The fifth annual Old Spice Classic at ESPN Wide World of Sports Complex will feature eight college basketball teams in 12 games over three days, Nov. 25-26 and Nov. 28, 2010. The field includes five schools that participated in NCAA Tournament "March Madness" this year – California, Notre Dame, Temple, Texas A&M and Wisconsin – plus Boston College, Georgia and Manhattan.
Each teamwill play one game per day through a bracket-tournament format at Walt Disney World Resort.

First-round games on Nov. 25 (all times are ET) are as follows:
Game 1: Boston College vs. Texas A&M, Noon (ESPN2)
Game 2: Wisconsin vs. Manhattan, 2 p.m. (ESPN2)
Game 3: Georgia vs. Notre Dame, 7 p.m. (ESPN2)
Game 4: Temple vs. California, 9 p.m. (ESPN2)

The two teams that remain undefeated through the first two days of play will face off in a championship match on Nov. 28 at 7 p.m. on ESPN2.
Tickets to the 2010 Old Spice Classic can be purchased at ticketmaster.com or by calling 407/839-3900. Fans can also purchase travel packages to the tournament by going to anthonytravel.com or by calling 1-800/736-6377. More info: oldspiceclassic.com or espnwwos.com.

--------------------------------------------------------------------------------

Pop Warner Football Players 'Going to Disney World'
In Quest for Super Bowl Glory Dec. 4-11

LAKE BUENA VISTA, Fla. – For more than 20 years, Super Bowl heroes have looked into a camera and shouted, "I'm going to Disney World!" In a twist on that famous TV commercial, about 1,600 youth football players from across the country will be proclaiming "We're going to Disney World!" this fall … in the quest for Super Bowl glory.
The players are members of 64 Pop Warner Little Scholars football teams that will earn spots in the Pop Warner Super Bowl Dec. 4-11 on the fields of ESPN Wide World of Sports Complex at Walt Disney World Resort. Teams nationwide battle through local and regional playoffs to earn spots in the Super Bowl field. There are teams in four divisions based on size and age – Jr. Pee Wee (ages 8-10 yrs.), Pee Wee (9-11 yrs.), Jr. Midget (10-12 yrs.) and Midget (11-14 yrs.).
In addition to football, Pop Warner activity at Disney also includes hundreds of squads competing in the Pop Warner National Cheer and Dance Championships. More info: popwarner.com.

--------------------------------------------------------------------------------

Disney Named Top Cruise Line by Readers of Condé Nast Traveler
CELEBRATION, Fla. – Disney Cruise Line has been recognized as the No. 1 cruise experience at the Annual Readers' Choice Awards for Condé Nast Traveler magazine in New York City.
Known as the leader in family cruising, Disney Cruise Line took the top honors in the Mega-Ship category, which is part of the magazine's annual readers' survey that recognizes the best in travel for resorts, destinations, airlines, cruise lines and car rental agencies.
Samantha Brown, renowned travel expert and television host on The Travel Channel, presented the award to Disney Cruise Line President Karl Holz at the awards gala in New York City.
"We are delighted to be recognized by such an esteemed travel community," said Holz. "This award is a testament to our continued dedication toward creating an unparalleled family cruise vacation. We appreciate the support of our guests who have sailed with us time and again and who helped make it possible for us to receive this highly regarded award."
Since 2007, Disney Cruise Line has consistently placed in top spots with Condé Nast readers' polls; however, this is the first time for the company to place No. 1 overall.
The accolade comes on the heels of an honor by readers of Travel + Leisure magazine, which recently named Disney Cruise Line the Top Family-Friendly Large-Ship Cruise Line in the 2010 World's Best Awards poll.
Since first setting sail in 1998, Disney Cruise Line has received more than 50 distinguished awards and recognitions from the travel industry. The awards have applauded aspects of the operation from dining and entertainment … to youth activities and spa facilities.
To learn more about Disney Cruise Line or to book a vacation, guests can contact

Academy Travel at 609-978-0740.



--------------------------------------------------------------------------------

Special La Nouba Performances at Downtown Disney on Dec. 31, 2010
LAKE BUENA VISTA, Fla. – New Year's Eve is a special evening at the Cirque du Soleil theater at Downtown Disney as the cast sets the stage for the New Year with artful performances of La Nouba toasted with a sip of champagne. Guests will also receive a special limited-edition La Nouba pin created for the New Year's Eve event.
Tickets for the Dec. 31 performances are available by calling 407/939-7328 or at the box office at the plaza level of the theater. More info: cirquedusoleil.com/lanouba.