CELEBRATION, Fla. – In an exquisite, top-deck restaurant with incredible ocean views, Disney Cruise Line debuts Remy – its first-ever premier dining option. With French-inspired, gourmet cuisine by two award-winning chefs, Remy melds classic and contemporary styles in a sophisticated new dining concept exclusively for adults on the Disney Dream.

Chef Arnaud Lallement from l'Assiette Champenoise, a Michelin two-star restaurant just outside Reims, France, and Chef Scott Hunnel from award-winning Victoria & Albert's at Walt Disney World Resort, are collaborating to create a French-inspired menu featuring superior products and seasonal ingredients sourced from around the world.

Master Pastry Chef Erich Herbitschek of Victoria & Albert's at Walt Disney World Resort and Chef Mattieu Gerard Siegrist of l'Assiette Champenoise will lend their talents to create Remy's savory breads and delectable dessert offerings.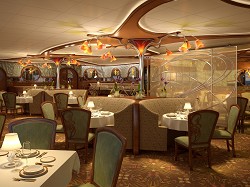 French-trained Chef Patrick Albert, executive chef for Remy, oversees an all-star culinary team that will provide guests with a superb experience and epicurean excellence each day aboard the ship.

"Remy, a first-of-its-kind onboard experience, takes Disney Cruise Line dining to new heights," said Ozer Balli, vice president, Disney Cruise Line Hotel Operations. "The extraordinary success of Palo on the Disney Magic and Disney Wonder encouraged us to create this elegant, upscale and even more intimate dining experience for the Disney Dream."

Dinner at Remy is a lavish and leisurely affair, starting with a signature chilled Champagne cocktail made tableside, followed by eight to nine small courses complemented by a stellar wine list. Lallement's cuisine is simple and stylish, such as roasted lobster with cream, and fresh asparagus with black truffles and vin jaune. It earns l'Assiette Champenoise two stars (of a possible three) from Michelin, making the experience "excellent cooking and worth a detour." Hunnel's innovative dishes offer small tastes of everything from wild caviar to Kobe beef and Japanese Wagyu strip loin. His cuisine earns Victoria & Albert's the coveted AAA Five Diamonds, a rating accorded a mere 0.19 percent of restaurants in North America and the Caribbean.

Polished touches at Remy include a tableside trolley for serving international cheeses, decanting stations for wines, and post-prandial coffee service including French press and grand crème.

With a subtle nod to the hit Disney•Pixar film "Ratatouille" and its petite French star Remy, the softly lit main dining room with seating for 80 is designed in Art Nouveau style with a palate of soft greens, deep reds and rich gold. The restaurant's classic French design features graceful sinuous lines on chair backs, etched in glass and in wall treatments, Nouveau-style floral and leaf design in the carpet and warm lighting. The famous Remy character is subtly and artfully integrated into the design.

Tables are elegantly set with Frette linens, Riedel glassware, Christofle silverware and china made exclusively for Remy, with gracious accents such as purse stools for women's handbags. The attentive serving staff is part of the sophisticated story, dressed in long white aprons, black jackets or burgundy vests, and bow ties. "From the moment our guests walk through the door, they are seamlessly transported to a fine French dining experience," said Balli.

As part of the main dining room, a glass-walled wine room with marble flooring seats guests amid more than 900 bottles of wine including a fine rare selection of Old World wines balanced with a solid selection of New World wines. Once dinner is booked and guests are on board, they are invited to meet with a sommelier in Remy's wine room to taste and pre-select their wines for the evening.

The private Chef's Table dining room seats 16 and offers a glimpse into the kitchen. The room is furnished with rich "Ratatouille"-inspired décor – bold red carpet, chairs and drapes with touches of gold, opulent chandeliers, and scenes of Paris on the walls. The private Chef's Table dining room has its own entrance to the kitchen to allow the chefs easy access, and offers a special multi-course menu.

To learn more about Disney Cruise Line or to book a vacation, please contact Academy Travel at 609-978-0740.