CELEBRATION, Fla. – Adding to its impressive list of cruise industry firs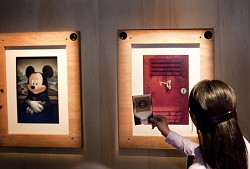 ts, Disney Cruise Line will combine technology-infused innovations and imagination to create a whole new level of magical experiences for families sailing on its newest ship, the Disney Dream. Throughout their cruise vacation, guests will encounter unexpected magic – such as a restaurant that transports guests under the sea, artwork that magically comes to life and youth clubs filled with immersive gaming environments and personalized character encounters.

Disney Cruise Line partnered with Walt Disney Imagineering, the creative force responsible for designing Disney theme parks and resorts world-wide, to develop new forms of family entertainment for the Disney Dream. New experiences planned for the Disney Dream include:

Animator's Palate
For the Disney Dream, Disney Cruise Line is re-imagining a fan favorite from the Disney Magic and Disney Wonder – Animator's Palate restaurant. The restaurant design is that of a classic animation studio filled with character sketches, maquettes (three-dimensional character models), paint brushes, colored pencils and other tools of the animation trade. Scenes and characters from popular Disney•Pixar films adorn the walls.

Once the dinner service begins, however, the dining room begins a magical transformation as scores of wall-mounted LCD screens switch to scenes of a vivid undersea environment. It's as if the restaurant was transported to the ocean floor and the LCD screens are windows, providing incredible views of a colorful coral reef and creatures that reside on the reef.

While dining, Crush, the surfer-dude sea turtle from Disney•Pixar's "Finding Nemo," makes a special appearance, swimming around the restaurant and engaging in live impromptu interactions with guests. Crush will ask guests about the experience onboard the ship and in turn answer questions about life under the sea. While Crush is moving throughout the restaurant, other characters from "Finding Nemo," such as Nemo, Dory, Squirt and Bruce the shark, swim by and visit with guests.

The dining experience culminates with a surfing lesson led by Crush as the EAC (East Australian Current) swirls around the room. As Crush swims away, other characters from "Finding Nemo" make a final appearance before magically turning into pencil sketches.

Magic Playfloor
For young cruisers, Disney's Oceaneer Club and Disney's Oceaneer Lab will feature a Magic Playfloor, a cruise industry first that blends the latest in gaming technology with Disney's panache for storytelling. Located in the main gathering space in both venues, the interactive floor allows children to engage in group activities where their movements control the action. For example, one activity has children scrambling around the floor with their movements controlling the pitch of a virtual tilt maze.

On the Magic Playfloor, children will be able to explore a wide variety of gaming options with varying levels of difficulty. Disney Cruise Line youth counselors will use the Magic Playfloor during storytelling activities where children will fly over the streets of London with Peter Pan or ride the ocean waves with Crush.

Living Characters
Also in Disney's Oceaneer Club and Disney's Oceaneer Lab youth areas, Disney characters come to life and interact with children in one-of-a-kind experiences. On a 103-inch screen, Crush, the animated sea turtle from the Disney•Pixar motion picture "Finding Nemo," or the mischievous animated alien Stitch make scheduled appearances to chat, play and joke with kids in live, unrehearsed conversations.

Sometimes using silly props from their digital environments, Crush and Stitch amaze and entertain children during real-time, personalized appearances. These magical experiences with Crush and Stitch continue Disney's legacy of bringing characters to life in new and incredible ways.

Enchanted Art
Throughout the Disney Dream, guests will encounter Enchanted Art that immerses guests in Disney storytelling in a completely new way. Appearing as traditional framed art, Enchanted Art magically comes alive when guests pause to admire the artwork. Enchanted Art will carry the appearance of popular art mediums – photography, oil paintings, paper sculpture, travel posters and animation cells. In reality though, they are framed LCD screens made to look like artwork through special effects and recognizes when a guest is present…which triggers the animated sequence. Guests may see new and different animations each time they come back and visit the Enchanted Art pieces.

In addition, the Enchanted Art is used as part of a one-of-a-kind detective themed adventure where guests of all ages join a ship-wide quest to find either stolen artwork or missing puppies. By using a simple card that serves as a high-tech detective device, guests can peer behind virtual canvases and discover clues that will lead them to solve the mystery and capture the villain responsible. A self-paced adventure, the game offers six potential villains and features randomized events so each time a guest plays they will encounter a different and unique gaming experience.

Magical Porthole
The Disney Dream carries on the spirit of innovation with a cruise industry first for all inside staterooms. Virtual Portholes offer a "window" to the world with a real-time view outside the ship. High-definition cameras placed on the exterior of the ship feed live video to each Virtual Porthole. The live video feed corresponds to the stateroom location – with a view to port, starboard, forward or aft.

As guests are observing the outside views, they may glimpse a magical surprise: animated characters may pop by the Virtual Porthole. Characters may include Peach the starfish from the Disney•Pixar film "Finding Nemo," the flying balloon house from "UP" or even Mickey Mouse.

The Disney Dream is scheduled to depart on its maiden voyage Jan. 26, 2011, and will sail alternating three- and four-night cruises to the Bahamas and Disney's private island, Castaway Cay. During summer months, the ship will alternate four- and five-night itineraries with two stops at Castaway Cay.

To learn more about Disney Cruise Line, or to book a cruise vacation onboard the Disney Dream, contact Aca

d

emy Travel at 609-978-0740.