For the first time in history, a family had the Magic Kingdom

® Park all to themselves. They entered the park to a view never seen before by any Disney Guest - Main Street, U.S.A. completely empty, no other Guests, no Disney cast members, just a red carpet stretching out a welcome.

The family had their pick of favorite attractions. There were no lines. Because no one else was there.

This unprecedented moment in Disney history was all part of the launch of Disney's The Year of a Million Dreams celebration, during which literally millions of dreams will come true at Walt Disney World® Resort in Florida and Disneyland® Resort in California.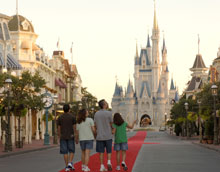 The Year of a Million Dreams is a first-of-its-kind event celebrating the individual dreams of Disney Park Guests from around the world.

So Disney made the Spangler family from Randolph, Ohio (winners of an online sweepstakes used to help kick off the celebration) the ultimate, one-of-a-kind Magic Kingdom VIPs. Disney literally rolled out the red carpet for the Spanglers on Main Street, U.S.A. at Walt Disney World Resort.

But there were more surprises in store. As the Spanglers reached the center of Main Street, U.S.A., fanfare trumpeters broke the morning silence from atop the buildings lining the street and the familiar strains of "Be Our Guest" began to play -- a signal for a whole lot of smiles. Appearing almost magically to form a receiving line fit for royalty were 1,500 Disney cast members and Disney characters, beaming and bubbly.

For the Spanglers, their morning was nothing short of incredible. In a park that hosts millions of guests each year, Magic Kingdom attendance was four as Ray and Tammy Spangler and their children, 13-year-old Derick and 11-year-old Ashley, walked toward Cinderella Castle between rows of smiles lining the red carpet.

"It was amazing," said Ashley. Derick chimed in, "That was awesome!"

With their Disney VIP host leading the way, they rode their favorite attractions, met their favorite Disney characters, appeared on ABC-TV's "Good Morning America" and lived out a dream.

"This is beyond the dream," Ray said. "This is something that you can't even think of dreaming of, yet we have it."

As the lands of the Park filled in behind them with other guests, the Spanglers dined with Disney royalty in Cinderella Castle during A Fairytale Lunch at Cinderella's Royal Table and were named grand marshals for the Disney Dreams Come True parade.

For Tammy Spangler, winning this most remarkable experience was a dream-come-true -- but one she figured was probably a proverbial "pipedream" when she entered the sweepstakes.

"I hardly ever enter these things," she said, "but Disney's the most fun we've ever had on vacation, so when I discovered the contest when I was [online], I entered it. But I really didn't figure we'd win, not in a million years."

But this is The Year of a Million Dreams and the Spanglers won't be the only ones finding their dreams come true. Book your Clients today for a magical vacation to the Walt Disney World Resort during The Year of a Million Dreams!