ESPN Wide World of Sports Complex at Walt Disney World
Quick Facts
Aligning the world's No. 1 family vacation destination with the worldwide leader in sports, Walt Disney World Resort and ESPN have joined forces to re-imagine Disney's Wide World of Sports Complex as ESPN Wide World of Sports Complex, creating an entertaining and immersive sports experience for the nearly 2 million amateur athletes, coaches and spectators who visit the sports complex each year.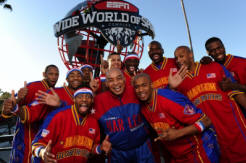 The re-imagined ESPN Wide World of Sports Complex features:
A state-of-the-art HD broadcast production facility that will capture complex event highlights and produce live events for ESPN media outlets
High-definition video screens and "jumbotrons" bringing the complex to life with updates from around the sports world and ESPN Wide World of Sports
ESPN Innovation Lab developing new technology to shape the future of sports broadcasting and production
ESPN Wide World of Sports Grill with a replica SportsCenter desk and guest access to ESPN360.com, ESPN.com and more
New and expanded amateur and elite sports events such as ESPN RISE Games presented by Target

"This is a natural and exciting pairing of two powerful brands to create a one-of-a-kind, immersive sports venue that will enable athletes, coaches and guests to experience sports in a whole new way," said Jay Rasulo, chairman of Disney Parks and Resorts. "This project builds on our collaborative successes and positions us to explore more opportunities with ESPN to create new experiences for guests at Walt Disney World Resort."

"Our involvement in the ESPN Wide World of Sports Complex will provide greater opportunities for us to connect directly with athletes, coaches and fans in a highly immersive way, as well as develop new broadcast technologies to enhance the viewing experience of sports fans across the globe" said George Bodenheimer, president of ESPN Inc. and ABC Sports, and co-chairman of Disney Media Networks. "Our involvement also provides us with a unique and exciting new media platform that will enable our advertisers and sponsors to reach new customers and bring their products and services to life."
Quick Facts:
The complex incorporates the signature elements of ESPN for a one-of-a-kind experience that is designed to take youth sports to the next level and make athletes, coaches and fans feel as if they made it to the "big time" and on to ESPN
The complex features a 20-zone audio system, 56 high-definition cameras (42 robotic, 10 handheld and four studio) and 40 high-definition video screens, including three jumbo screens, that can capture any competition at the complex and display live action, game highlights, player interviews and ESPN programming.
A new 2,500-square-foot state-of-the-art Production Center with eight edit bays and uplinks to ESPN facilities in Bristol, Conn., New York and Los Angeles provides competition footage to various ESPN media platforms such as ESPN, ESPNRISE.com and ESPN3.com.
The ESPN Innovation Lab, where new ground-breaking on-air products are developed and tested utilizing the athletes and events taking place at the complex. Additionally, ESPN Wide World of Sports Complex was recently designated as ESPN's development hub for 3D telecast technology.
A redesigned and renamed ESPN Wide World of Sports Grill, a sports-themed eatery with high-definition TV screens, live radio remote capabilities and a SportsCenter desk.
The PlayStation Pavilion features 17 PlayStation 3 systems, including a SingStar stage, and a collection of just-released sports-themed games and other titles.
The Welcome Center is an information hub for sports complex guests looking for sports event information as well as theme park information, dining reservation, golf tee times, etc.
Academy Travel is an Authorized Disney Vacation Planner
Specializing in Walt Disney World, Disneyland Resort, Disney Cruise Line and Adventures by Disney Vacations
Back to Articles