ESPN the Weekend 2006
No matter where you turn, there's no bad seat in the house when the Disney MGM Studios at Walt Disney World host ESPN the Weekend. It's jam-packed with top athletes, ESPN personalities and one-of-a-kind ESPN experiences. And, of course, all the fantastic Walt Disney World rides and attractions.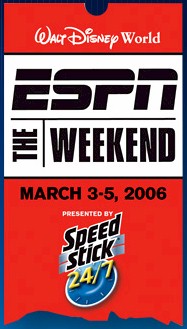 MOTORCADE
ESPN personalities and sports celebrities will motorcade up Hollywood Blvd. to the stage in front of the Sorcerer's Hat at the Disney MGM Studios for an exclusive onstage chat. Guest will get a close up look and a chance to ask questions of their favorite sports stars.

ESPN THEATRE
The theater at the Disney MGM Studios will allow fans and guests to further experience the network's programming through several ESPN shows a day and will be highlighted by Q&A sessions with ESPN personalities and athletes. ESPN programming will include Sports Center, Baseball Tonight, Cold Pizza and more.

ESPN / DISNEY MEET THE CHARACTERS AND ATHLETES
The best part about the weekend is your chance to rub elbows with sports heroes from yesterday and today... and get your picture taken with Mickey Mouse and the gang at the Disney MGM Studios

WHO WANTS TO BE A MILLIONAIRE?
Guests will get a chance to jump in the famed "Hot Seat" and partner with an ESPN personality or sports star to test their sports knowledge in a special sports edition of the popular game show "Who Wants To Be A Millionaire - Play It!" at the Disney MGM Studios

ESPN THE TRUCK
ESPN The Truck presented by NFL Flag will be open for fans to sample the latest in sports television technology.
Kiosks in the 35-foot long trailer include: a replica Sports Center desk, ESPN The Magazine photo shoot area, and ESPN video game station.

ROCK 'N' ROLLER COASTER
Hop inside your super-stretch limo and buckle up for a Rockin', loopin', corkscrewin' Hollywood joyride to the music of Areosmith at the Disney MGM Studios

TOWER OF TERROR
Brave the creepy facade of a once-glorious hotel for a jolt back in time. Board a phantom elevator, shoot up 13 stories and brace yourself for a thrilling plummet... but beware! You dare to ride once more, but wait! That's not what happened before. That's right, now the Tower is in control, so it's never the same fear twice! At the Disney MGM Studios.

Academy Travel is an Authorized Disney Vacation Planner
Specializing in Walt Disney World, Disneyland Resort, Disney Cruise Line and Adventures by Disney Vacations
Back to Articles