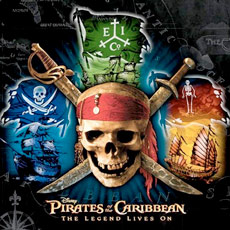 Dead men tell no tales, but what about pirates in the flesh? Uncover the real story this spring as Disney Cruise Line features an event sure to send shivers up any seafarer's spine. "Pirates of the Caribbean: The Legend Lives On" cruise will take Guests to World's End and beyond, led by actors Lee Arenberg and Martin Klebba - better known to fans as Pintel and Marty from all three "Pirates of the Caribbean" films. This high-seas journey promises an earful of behind-the-scenes movie lore, tomfoolery, and exclusive treasures ... dare ye listen to the yarns these superstar scoundrels can spin?

Setting sail March 8 to 12, the Disney Wonder will host this pirate-themed party, traveling to Nassau and Castaway Cay. With 10 distinctive decks, the ship offers luxurious staterooms, restaurants, pools, shops, and first-class family entertainment. Guests must register for the event to participate in the scheduled pirate-themed activities. A private welcome reception with Lee, Marty, and renowned artist Dave Avanzino will kick off the first day of the cruise.

Both actors are extremely enthusiastic when talking about the upcoming trip. Lee says, "It's always a pleasant surprise when we're asked to do these things. I've been on a Disney Cruise before and it's a million times more fun than you can imagine." "I've never been on a cruise ... except for two years on the Black Pearl," Marty adds with a laugh.

Having been members of Jack Sparrow's motley crew, Lee and Marty are thrilled to share amusing anecdotes and on-set memories with fans. "We're actors who believe life is an adventure ... that's why playing a pirate is so much fun for us as well as the audience. They were sort of nonconformists in an ever-conforming world and it's great being able to relive a little part of that," explains Lee. However, the swashbuckling lifestyle can be taken just so far. "Obviously, we have better hygiene than real pirates. Our teeth are a lot cleaner!"

Wardrobe, makeup, and prosthetic teeth aside, Lee's Pintel is truly quite a character. He's best remembered for the infamous "Ello, Poppet!" line, coming between captains Jack Sparrow and Hector Barbossa in the heat of a power struggle, and comedic jousting with his tall, one-eyed sidekick Ragetti. Small but mighty Marty was characterized by his courage, French accent, and fancy swordsmanship. Never revealing his mysterious past, Marty was recruited by Sparrow in Tortuga to help recover the Black Pearl from Barbossa.

With sun, sand, and glorious weather, there's no better place to retrieve a notorious ship. So how do the actors feel about returning to pirate territory, commonly known as the Bahamas? "It brings back such fantastic memories ... the warm waters and beautiful skies of the Caribbean. It's an amazing part of our lives and it'll be great to visit again," Lee continues. Marty wholeheartedly agrees. "Once we get there, I think it'll feel like we never left. I can't wait."

Sightseeing, dining, and mingling with Guests are just a few of the things this busy duo can look forward to. The four-day itinerary consists of a seminar with the actors, event-exclusive gifts, an up-close look at actual props from the movies, private meet and greet with the actors, an interactive viewing of "Pirates of the Caribbean: The Curse of the Black Pearl," surprise entertainment and activities on board as well as at Castaway Cay, special dining times, availability of limited edition movie merchandise, and a hands-on workshop with guest artist Dave Avanzino.

Though the actors are privy to some top secret surprises, Guests are truly in for a treat. According to the actors, fan response should be positive. Marty recalls, "We've done a few charity events together and any time Lee's come out with me, the people just love it. We work off each other so well that it's like second nature. And once we get the audience involved, we're on a roll and next thing you know an hour or two flies by. You don't even realize it because you're having fun."

Lee sums it up like this. "It doesn't take much for actors to give fans an extra 30 seconds. If you're nice about it, it makes your day anyway. And Marty and I specialize in being nice ... that's really true. We're good friends on and off screen and we just like meeting people. I think the audience will dig it. To be honest, I'm sure they'd rather see Johnny and Orlando, but we'll represent the franchise the best we can. We bring the spirit and the love of these characters... which is what we always bring."

"Pirates of the Caribbean: The Legend Lives On" promises cruise-goers an unforgettable adventure with some pretty personable buccaneers!