Lights, water, music, fire and animation will come together like never before on June 11, 2010, when "World of Color" makes its dazzling debut at Disney's California Adventure® Park. The newest and most-anticipated Disney nighttime spectacular, the show is choreographed with revolutionary technology that creates a playful, nighttime spectacular and a new way for your Clients to experience Disney stories.

Presented on Paradise Bay in Disney's California Adventure Park, "World of Color" is a major milestone in the multi-year expansion of the Disneyland® Resort. The show combines nearly 1,200 powerful fountains, popular Disney music and an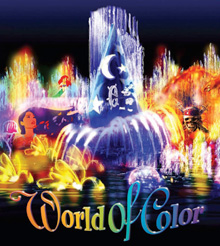 all-new kaleidoscope of audio and visual effects, including both classic and new animation projected on massive screens of water. "World of Color" floods the senses and brings your Clients on an imaginative, emotional journey into the colorful worlds of Disney classics such as "The Lion King" and "The Little Mermaid," and of Disney/Pixar films including "Toy Story" and "WALL-E."

"World of Color" will take water-infused entertainment to a new level of artistry. Disney's newest production features an unprecedented infrastructure of water effects, larger-than-life projections, lasers, fire, fog, surround sound, and moving fountains that can shoot water 30 to 200 feet into the air. Technical wizardry integrates all show components with one of the largest show-control systems ever created; more than 18,000 active points of control are precisely managed by a single system.

For over a year, Walt Disney Imagineering and Creative Entertainment have worked to install a massive infrastructure using innovative technology that will create the stage for this extraordinary blend of music, animation and stunning water effects. Teams of Disney workers have built nearly an acre of superstructure to support the complex "World of Color" production. In addition, a newly designed viewing area will provide Guests the best-possible view of this exciting nighttime extravaganza. The show lasts approximately 25 minutes.

"World of Color" debuts this year as part of "Summer Nightastic!" – a lineup of exciting, after-dark entertainment that will illuminate the night at the Disneyland Resort. "Summer Nightastic!" will run June 11 through Aug. 29, 2010, while "World of Color" will continue to entertain Guests year-round at Paradise Bay.