Unlock the Magic with Your
MagicBand or Card
Later this year, a simple touch of your card or MagicBand will let you enter parks,
unlock your hotel room door and more.
Your key to a more carefree visit.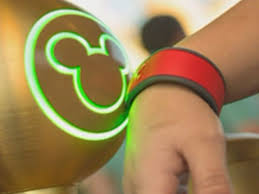 MagicBands and cards are all-in-one devices that serve as your "ticket," "room key" and more. With a MagicBand on your wrist or a card in your pocket, you'll travel lighter throughout your vacation. With the introduction of FastPass+, your MagicBand or card will even allow you to check in at FastPass+ locations.

Touch-enabled cards are available now. MagicBands are currently being tested and will be available in the coming months.
Disney magic has never been more seamless.

Use your card or MagicBand to:
Unlock the door of your Disney Resort hotel room.

E

nter theme and water parks (with valid theme park admission).
Later this year, you'll also be able to use your card or MagicBand to: •Check in at FastPass+ entrances (with the introduction of FastPass+).
Connect Disney PhotoPass images to your account.
MagicBands are

here!



Building on the success of the MagicBand testing at Disney's Pop Century Resort and Disney's All-Star Resorts, Guests staying at all Walt Disney World Resort hotels will now receive only a MagicBand (not a Key to the World card) to use as their room key and more throughout their stay.

Upon check-in, Guests will receive their MagicBands, if they did not already receive them at home. Front Desk Cast Members can provide a RF-enabled Key to the World card instead of a MagicBand if a Guest requests it. This card functions the same way a MagicBand does, including the "touch to enter" resort room, "touch to enter" Theme Parks and Water Parks (with valid Theme Park admission), "touch to pay" (optional), "touch to redeem" FastPass+ selections and "touch to associate" photos features.

A small number of Guests will receive an RF-enabled card (in addition to a MagicBand) for use on common-area doors. This includes Disney's Fort Wilderness Campground Guests, as well as concierge-level Guests who check into their Resort before their room is ready. These cards will not offer the functionality that a MagicBand provides.
Get started now.

If you're participating in the MyMagic+ test, be sure you:
Create your Family & Friends list to connect to everyone in your travel group.
Customize your MagicBands by the date shown on your MagicBands and Cards page.
Carry your MagicBands with you, and not packed in your luggage, so you'll have them available upon arrival.
Whether you're involved in the test or not, be sure your tickets and Disney Resort hotel reservations are linked to your account so you'll be ready for the magic the moment you arrive.
Link Reservations and Tickets

If you're planning your Disney vacation, use Family & Friends to connect to everyone you'll be traveling with.
Create Your Family & Friends List

Your privacy and security are important to us. Learn more about our privacy and data collection policies and how RF technology is used in MagicBands and cards.

Contact Academy Travel at 609-978-0740 for more information about how to use MagicBands and cards.
Academy Travel is an Authorized Disney Vacation Planner
Specializing in Walt Disney World, Disneyland Resort, Disney Cruise Line and Adventures by Disney Vacations