Over

60 Delightful Years of Disney Magic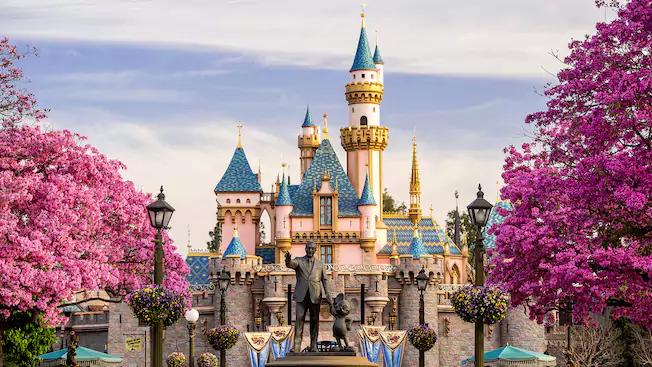 Click Here to see the most complete and up-to-date Disneyland Resort information

Enter a magical kingdom where you can sail with pirates, explore exotic jungles, meet fairy-tale princesses, dive under the ocean and rocket through the stars! Disneyland Park is a beloved Southern California destination where generations of families have made their Disney dreams come true. Walt Disney's original Disneyland theme park, which first opened on July 17, 1955, is now divided into 8 extravagantly themed lands: Main Street, U.S.A., Tomorrowland, Fantasyland, Mickey's Toontown, Frontierland, Critter Country, New Orleans Square and Adventureland.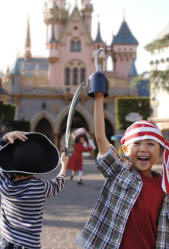 Behold a Timeless World of Wonder
Ever since Disneyland Park opened on July 17, 1955, the Disneyland Resort has been an unforgettable destination for families to return to, again and again—a source of joy for the entire world and a place where innovation has continued to inspire an exciting future.

Throughout the festivities, soak up the sights as iconic jewels you know and love—Sleeping Beauty Castle at Disneyland Park and Carthay Circle Theatre at Disney California Adventure Park—magically transform, glistening and gleaming with special Diamond Celebration enhancements.

In addition, be sure to treat your senses to the visual feast set all along beloved Disneyland Resort locations like Buena Vista Street and Main Street, U.S.A. Both will be decked out for the occasion with shimmering banners, glittering décor… and so much more.

It's a celebration so big, one day simply isn't enough to enjoy everything in store! Be sure to book your reservation at the hotels of the Disneyland Resort today.

No matter how many times you've explored its eight themed lands and been thrilled by its classic attractions, shows and special entertainment, there's always something new to experience!
Vital Statistics:
Opened July 17, 1955
More than 450 million Guests have visited since its opening
Features 8 themed lands and more than 60 attractions
Disneyland Park is the world's first theme park as well as the first element of the Disneyland Resort which now includes Disney's California Adventure Park, three resort hotels and the Downtown Disney District.
Main Street, U.S.A.: Inspired by Walt's own hometown of Marceline Missouri, Main Street is the essence of "hometown America" that greeted the dawn of the 20th century. OR A nostalgic trip through small-town America at the turn of the 20th century.
Adventureland: In this remarkable realm of adventure and exploration, Guests experience an amazing amalgam of many of the world's far-off places and uncharted regions. OR A thrilling journey to exotic and enchanting realms of exploration, adventure and discovery, inspired in part by "Walt Disney's True Life Adventure" film series.
New Orleans Square: New Orleans Square evokes the elegance, energy, culture, music, history and unique architecture of the famed French Quarter in New Orleans. Like the real French Quarter, New Orleans Square casts a spell rich with tales of swashbuckling pirates and ghouls, ghosts and goblins. It is a land filled with magic and mystery…and a sense of discovery.
Frontierland: The heroes, legends and tall tales of the American West live on in Frontierland. OR A return to the heritage of the Old West and the spirit of the pioneers who blazed trails across America.
Critter Country: Every day is a "Zip-A-Dee-Doo-Dah" kind of day in Critter Country. OR A down-home, backwoods setting for Splash Mountain.
Fantasyland: Cross over the moat and through the archways of Sleeping Beauty Castle to enter "The Happiest Kingdom of Them All," Fantasyland. OR A festive storybook celebration of classic Disney animated stories and Characters.
"The Happiest Kingdom of Them All," Fantasyland brings to life the wonder and magic of Disney animated stories and characters in a quaint storybook village. Guests can embark on adventures with Snow White, Peter Pan, Mr. Toad, Pinocchio and Alice in Wonderland, soar through the air with Dumbo, and set sail on a joyous salute to children of the world and race down the icy slopes of an Alpine mountain.
Mickey's Toontown: Bursting with color and frenetic energy, Mickey's Toontown is a 1930s classic Disney cartoon come to wacky "reel" life. OR The whimsical cartoon home of Mickey, Minnie, Donald and their Disney pals.
Tomorrowland: As Guests cross over into Tomorrowland, they embark on an exciting journey to "Imagination and Beyond." OR A world of imagination—and beyond—filled with sci-fi dreams, fantasies and soaring space adventures.
About the Disneyland Resort: The Disneyland Resort features two theme parks – Disneyland park (the original Disney theme park) and Disney California Adventure park – plus the Downtown Disney District comprised of unique dining, entertainment and shopping experiences. The Resort's three hotels are the luxurious, newly expanded 948-room Disney's Grand Californian Hotel & Spa, the magical 970-room Disneyland Hotel and the 481-room Disney's Paradise Pier Hotel with its "day-at-the-beach" fun. For more information about the Disneyland Resort

contact Academy Travel at 609-978-0740

Click here for a No Obligation Disney Vacation price quote
Academy Travel is an Authorized Disney Vacation Planner and a Diamond Earmarked Travel Agency
Specializing in Walt Disney World, Disneyland Resort, Disney Cruise Line, Adventures by Disney Vacations and Aulani, a Disney Resort & Spa
Back to News Articles