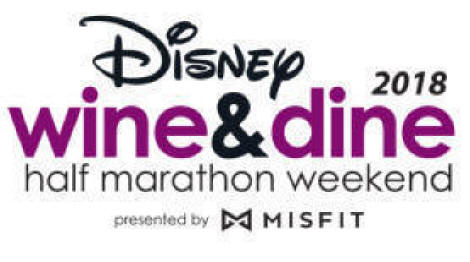 2018

Disney Wine & Dine Half Marathon Weekend


Terms and Conditions
Race Registration Fees

Disney Wine & Dine Half Marathon presented by MISFIT™ (Sunday, November 4, 2018) $199

Disney Wine & Dine 10K presented by MISFIT™ (Saturday, November 3, 2018) $125

Disney Fall Feast 5K presented by MISFIT™ (Friday, November 2, 2018) $85
Disney Two Course Challenge presented by MISFIT™ (Saturday, November 3 – Sunday, November 4, 2018) $345
Before purchasing registration please see very important terms below
$200 deposit for minimum 2-night hotel stay and 2-day park ticket is required. Only one deposit required per room - up to four guests/participants per room. Runners can select multiple races.

Each package requires a minimum 2-night stay at any Walt Disney World Resort hotel. Race registrations are not sold separately. You may extend your stay subject to availability

Each package requires a minimum 2-day Magic Your Way® Ticket with Park Hopper® Option for each guest. Additional days may be added.

Academy Travel is happy to offer to our runners Disney's Pop Century Resort and Disney's Caribbean Beach Resort as host resorts. The number of room allocated is limited*.

Other resort options can be requested based on availability and will be offered at the the prevailing rate.

Runner registrations will be linked to Active Works. Each

participant

will

receive a link to

active.com

.

In order to register with active.com each Adult runner MUST have a unique email address
Cancellations will only be accepted

u

p to 45 days prior to

the

race event.

Within 45 days of a race event,

a $75.00 cancellation fee

,

plus any unsold race registrations

will be assessed.

Race Registration Request does not guarantee the ability to purchase a Runner Package. Packages are limited and will sell out.

Race registrations are non-refundable, non-transferable and may not be deferred.

Disney Dining Plans may be added

Limit of 4 race registrations per room.

The initial deposit required to confirm your Runner Package is non-refundable.

Final balance on all packages is due on or 45 days prior to travel.
Click here to begin your registration
FAQS
Can the ticket component be waived?
No, the ticket is mandatory. If the runner is an Annual Passholder, they must purchase the package with the ticket component. The rooming list will be submitted with the Annual Passholder number. The Annual Passholder number will be verified to ensure it is active. After the event concludes and the tickets have not been used, they will be refunded. Other runners sharing the room with Annual Passholder

must purchase tickets unless they are also

an

Annual Passholder, which the above will then be in effect.

Can the ticket be upgraded to an Annual Pass?
Yes, the runner can pay the difference and upgrade the ticket in the package to an Annual Pass.

Is there an extra person fee?
Yes, the 3rd and 4th adult in the room will be charged a person/per night fee. All guests in the room will be required to have the same park ticket package (Dining, Memory Maker).

What does my runDisney Package Include

?
Minimum 2-Night Stay at Disney Select Resort
Minimum 2-Day Multi-Day Base Ticket with Park Hopper® Option
Entitles you to two (2) days of admission to one or more of the following for each day of the ticket:
Magic Kingdom
Epcot
Disney's Hollywood Studios®
Disney's Animal Kingdom® Theme Park
Race Registration Fee(s) For Star Wars Half Marathon - The Dark Side

race(s) of your choice

Ground Transportation
Disney's Magical Express® Transportation- Bus from Orlando International Airport to Host Resort
Transportation From Host Resort to Walt Disney World® Theme Parks
Transportation From Host Resort to the Expo and Races
What is included in the registration fee?
Each participant's registration includes a commemorative shirt, race bib and medal or medallion.

How do I know that I'm registered?
Once your registration has been processed, you will receive a confirmation email from Active.com. This email will serve as your only confirmation of registration.

Is this race walker friendly?
Yes, runDisney races are walker friendly, as long as the walker can maintain the minimum pacing requirement for the race they are participating in.

Is there a pacing requirement for the race?
Yes. Please visit the Pacing Requirements section found within the Runner Info page for details regarding pacing requirements for each event weekend race.

What happens if I can't keep up with the pacing requirement?
Anyone not able to maintain the pace may be picked up and transported to the finish at any point along the course.

Does my race registration

package

include entry into the park?


Yes, your package includes

2-Day Multi-Day Base Ticket with Park Hopper® Option

. Park tickets can be upgraded by calling Academy Travel at

609-848-9573

.

Do I need to purchase a theme park ticket to participate in the race?
A theme park ticket is not needed to participate in a runDisney race.

Is bag check available for runDisney races?
Yes. Please visit the Runner Info page of the individual event weekend for more information.

What is included on my personalized bib?
Your personalized bib will include your first name and your race number for all runDisney races.

Am I allowed to wear a costume in runDisney races?
Yes, however, costumes cannot interfere with the safety of you or other runners. If a costume is questionable or offensive to others, we reserve the right to either have you change into something more appropriate or remove you from the event.

Can I use headphones while racing?
Headphones can be worn but are discouraged due to audio messages played throughout the course to ensure the safety of all runners.

Are there any other restrictions I should know about?
Yes, additional restrictions may apply on an event-by-event basis. Please review the "Safety" information in the Runner Information page of the event you are interested in.

Will the race be cancelled or postponed due to weather?
All runDisney races will be held rain or shine, except in the case of lightning. For the Walt Disney World® Lightning Policy, please see the "Safety" information on the Runners Information page of the event you are interested in.

Can I get a refund on my race entry?
Entry fees for runDisney are non-refundable.
Click here to begin your registration